How do I use the Assignment Scores report?
Updated
When you've assigned content to your students on the Khan Academy platform, you will be able to review their performance and completion information for those assignments on the Assignment Scores Report. This article will cover how to find the Assignment Scores Report, how to navigate the report, and what data is included on it. 
Where is the Assignment Scores Report located?
To access the Assignment Scores Report, select a class from your teacher dashboard, then click the Scores option under Assignments dropdown on the left-hand menu.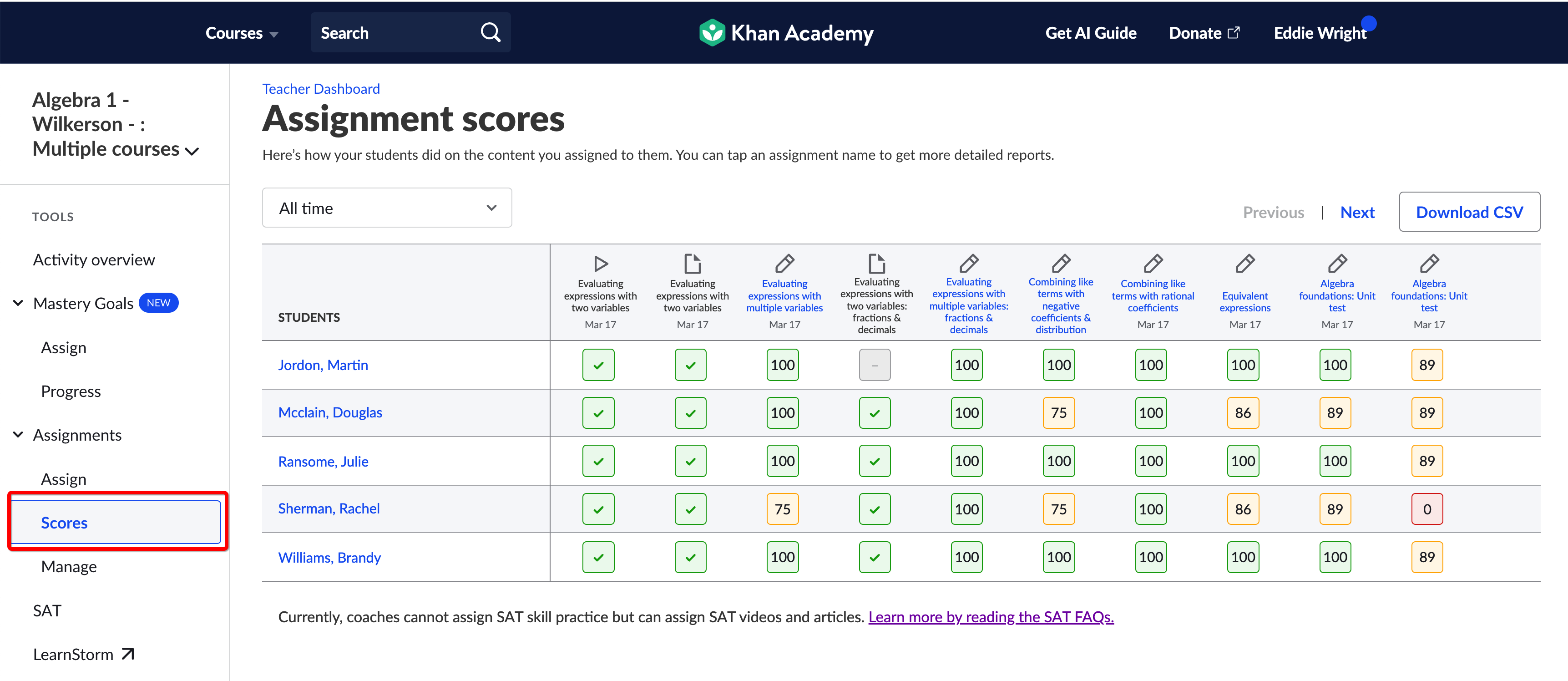 What do the symbols at the top of the columns mean?
Above each assignment, you will notice different icons that represent different types of assigned work. 
A

triangle

indicates a video was assigned

A

piece of paper

indicates an article was assigned

A

pencil

represent either a practice exercise, a quiz, or a unit test.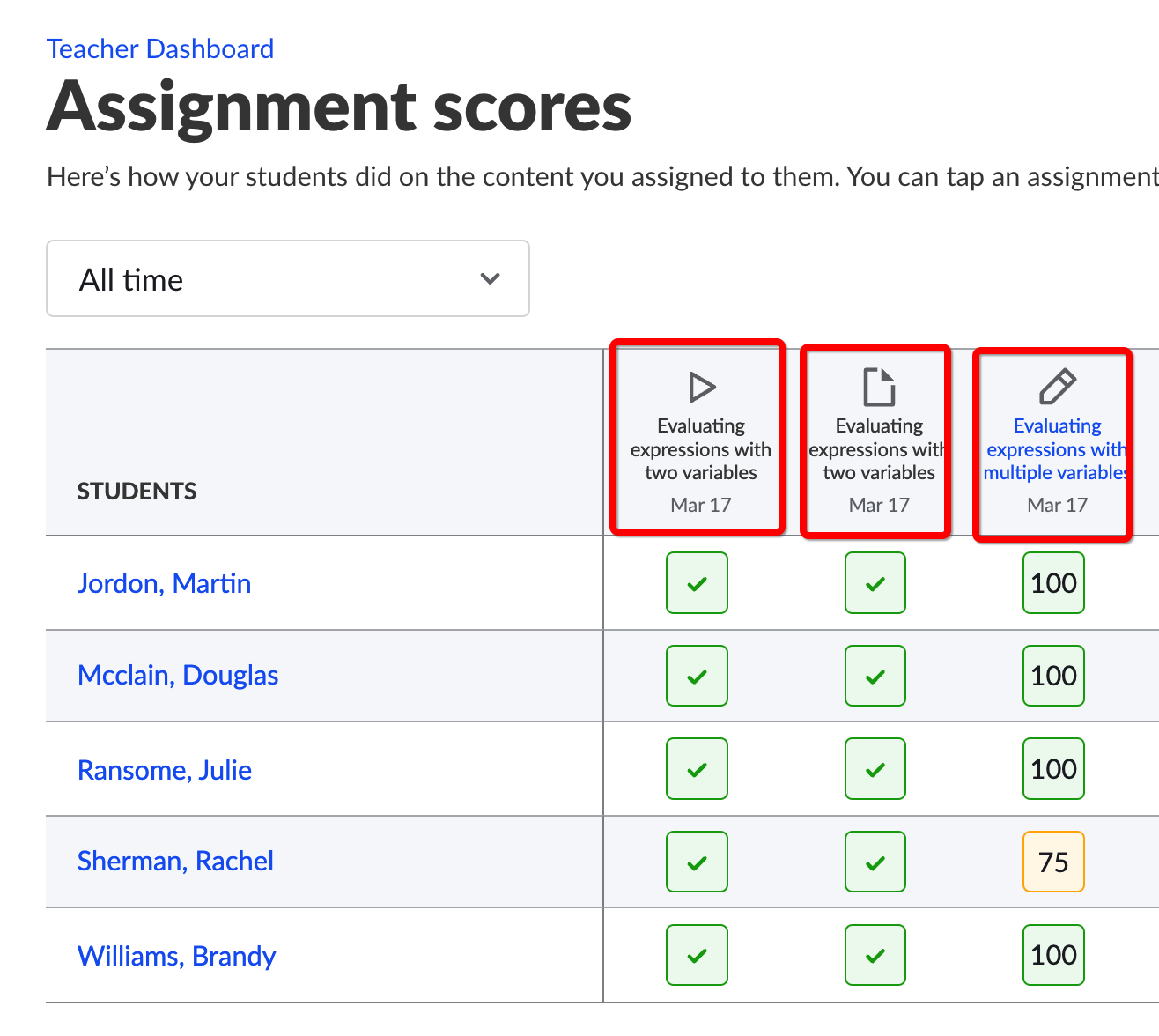 How is student data shown on the report?
Inside the assignment boxes, you will notice other symbols and colors to help you better understand your students' performance and/or completion of assignments. 
A dash under an assignment without a box: The task has not yet been assigned to these students and they cannot see it on their accounts.
A grey box with a dash inside: The task has been assigned, but the student has not yet completed the work.
The colors that highlight students' scores help you assess their performance at a glance. The percent listed in the box is your student's best score on the assignment.

Green: Video or article was read to completion, or assignment score was 100
Yellow

: Assignment score was between 60-99

Red: Assignment score was between 0-59

A green checkmark indicates that your student completed a video or article assignment

in its entirety.

If your student claims to have completed a video assignment, but the scores report does not show a green check, read this article

for more information about why this might be happening. 

Some additional features of the Assignment scores report to highlight: 
Date Range filter: customizable to see assignments from a particular time period
Previous and next page links: click these to navigate the list of assignments 
Download CSV button: click this if you would like to export your students' assignment scores. Additional resource: How do I download my students' assignment scores?
Hyperlinked Assignment title names: click this to be taken to the assignment's Responses Report to see how your students answered the questions in this assignment. 
Click on the score number to also be taken to the Responses Report 
Click a student's name to be taken to their Individual Student Report. Here you can see all work this student has done on Khan Academy. 
Below is a clip showing these features in action: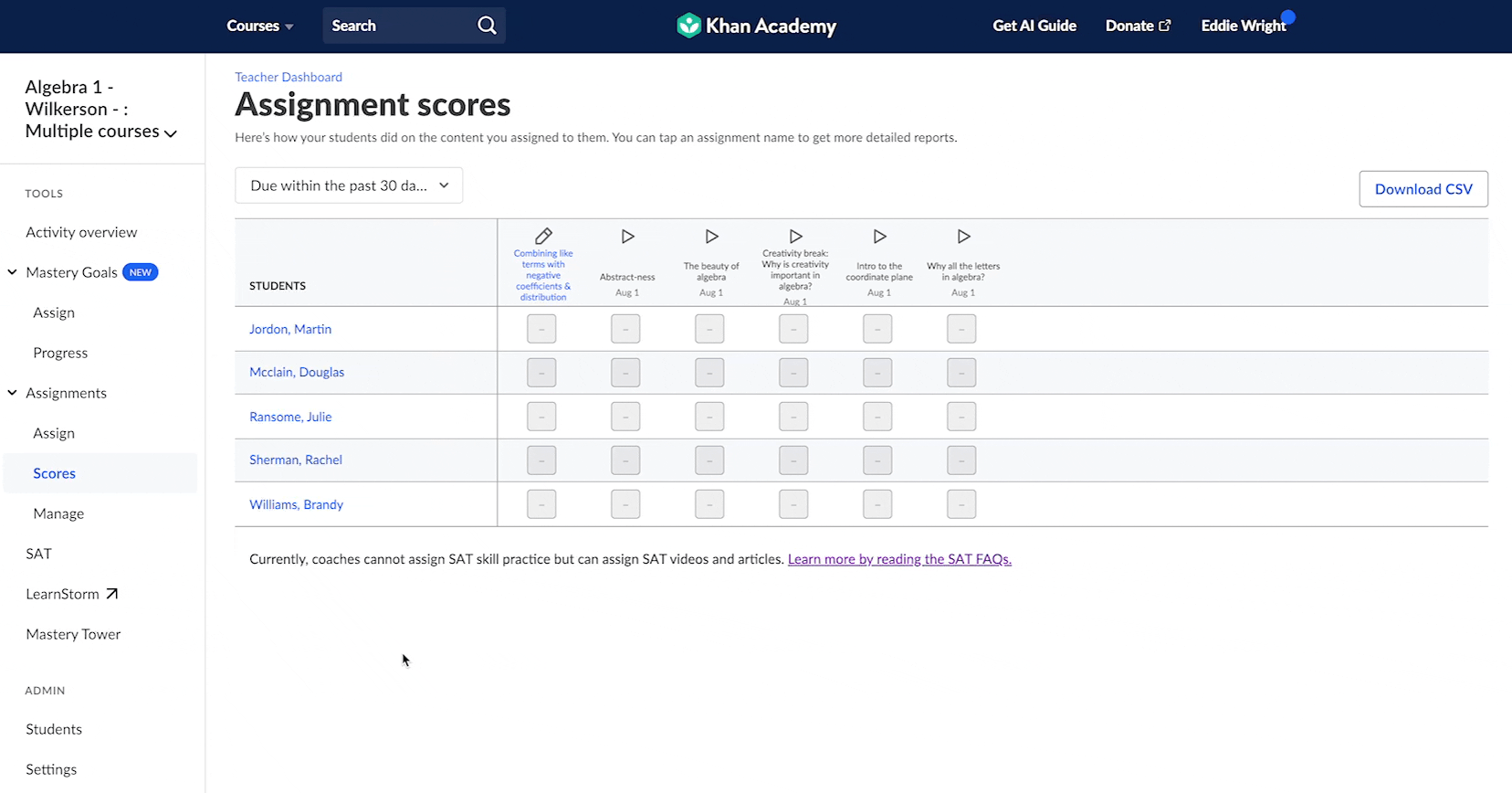 We hope this article was helpful for you to learn more about the Assignment Scores report and how to find the student data you need on it. For additional guidance or to share feedback, please reach out to our support team here! We are happy to help. 
Additional resources: