How do I use the Assignment Scores report?
Updated
When you've assigned content to your students on the Khan Academy platform, you will be able to review their performance and/or completion of the assignments by viewing the Assignment Scores Report. Note that only work that you've assigned can be viewed using this report.
To begin, you can access the report by clicking on Scores under Assignments in the left sidebar.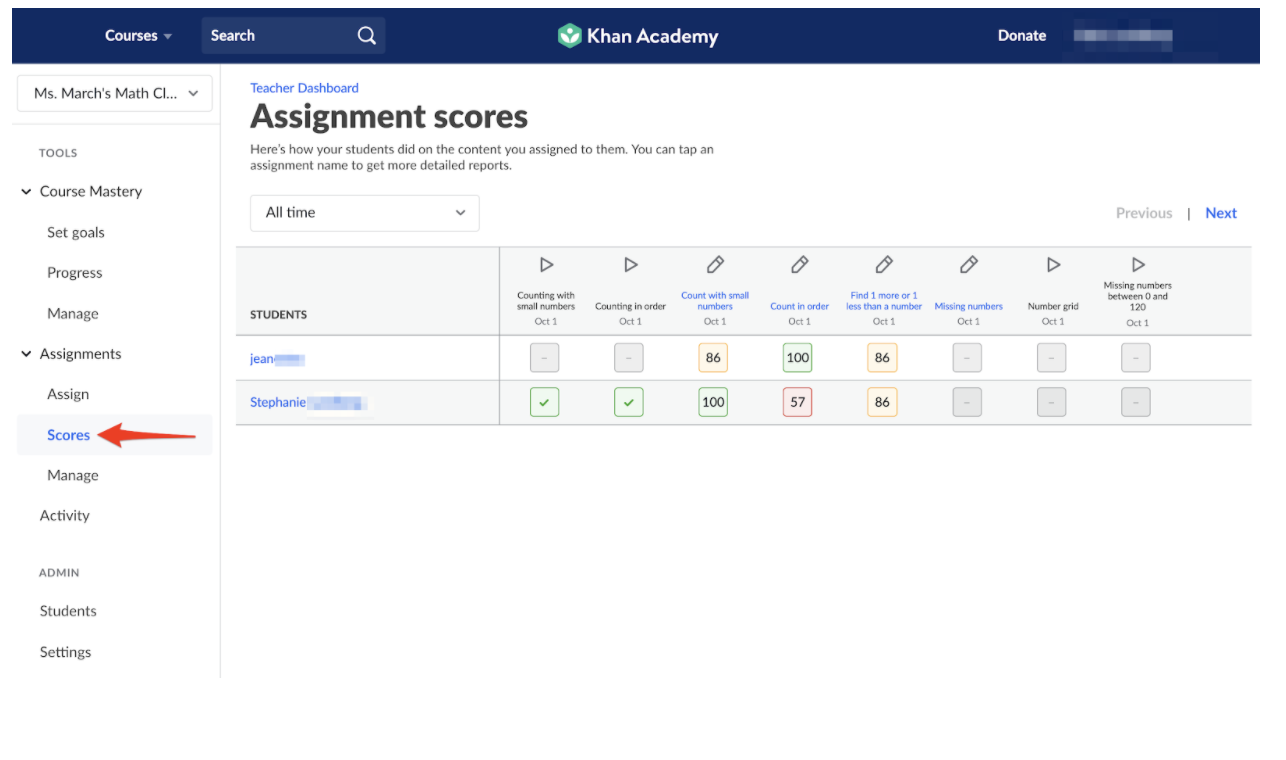 What do the assignment symbols mean?
Above each assignment, you will notice different icons that represent different types of assigned work.
A

triangle

above an assignment indicates a video.

A

piece of paper

is an article assignment.

A

pencil

can represent a practice exercise set, a quiz, or a unit test.

Assignment score boxes:
Inside the assignment boxes, you will notice other symbols and colors to help you better understand your students' performance and/or completion of assignments.
A grey box with a dash inside: Your student has not yet completed the assigned work, but the assignment

does

appear in the student's account.

A dash under an assignment, no box: The task has not yet been assigned and students cannot see it in their accounts.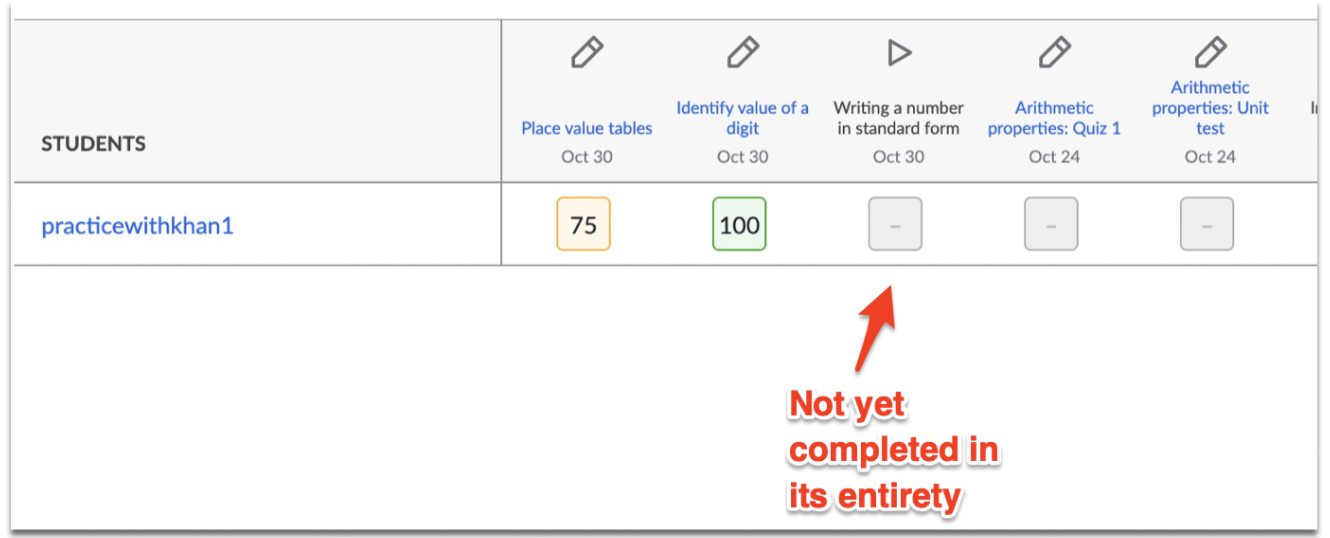 Colors:
The colors that highlight students' scores help you assess their performance at a glance.
Green: Your student demonstrated proficiency on that particular assignment.
Orange: Your student is familiar with the content, but could use extra practice.
Red: Your student attempted the assignment but is not yet familiar with the skills presented.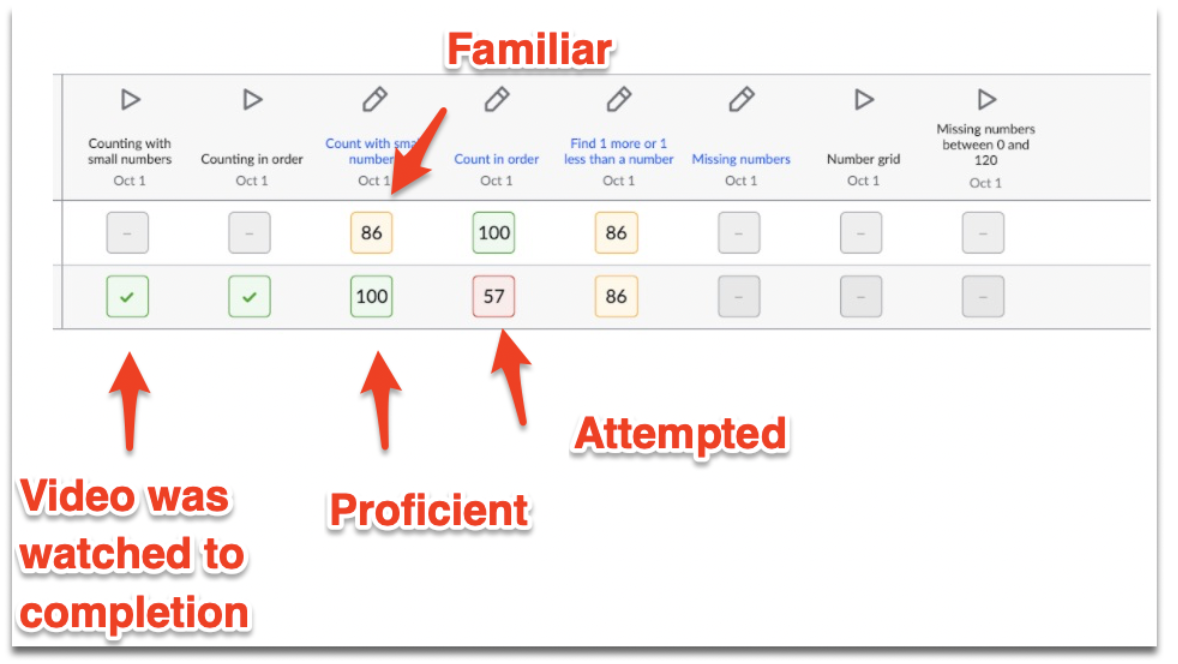 Checkmarks:
A green checkmark indicates that your student completed a video or article assignment that is not scored for accuracy.
If your student claims to have completed a video assignment, but the scores report does not show a green check, read this article for more information about why this might be happening.
My student said they completed the assignment more than once. What score am I seeing in this report?
The percent listed in the box is your student's best score on the assignment.
Response Report
Note that students are given multiple attempts on individual practice problems while completing a practice set, quiz, or unit test. Click the view report button to see students' responses on individual questions.
Shown below, the student's best score on this assignment is 75%.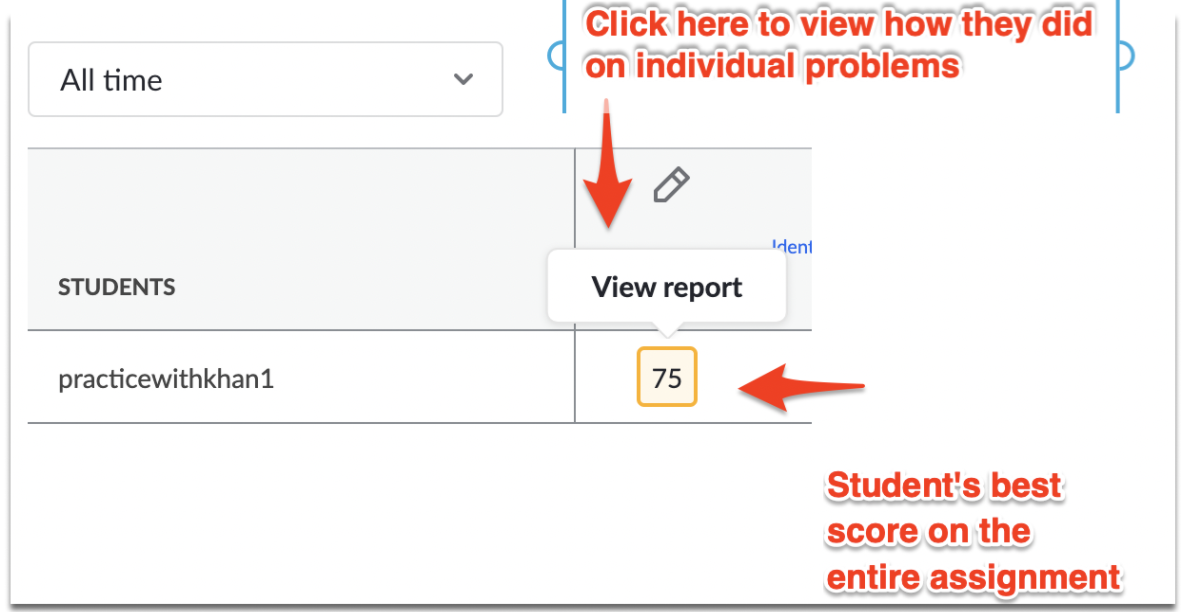 After clicking view report, you can see how the student performed on individual problems within a practice set.
How can I view the number of times a student completed an entire exercise set, quiz, or unit test?
To see how many times your students attempted the entire assignment, click Manage under the Assignments heading in the left sidebar.
Under the column marked Completed, you will be able to see how many students completed the assignment out of how many students received the assignment.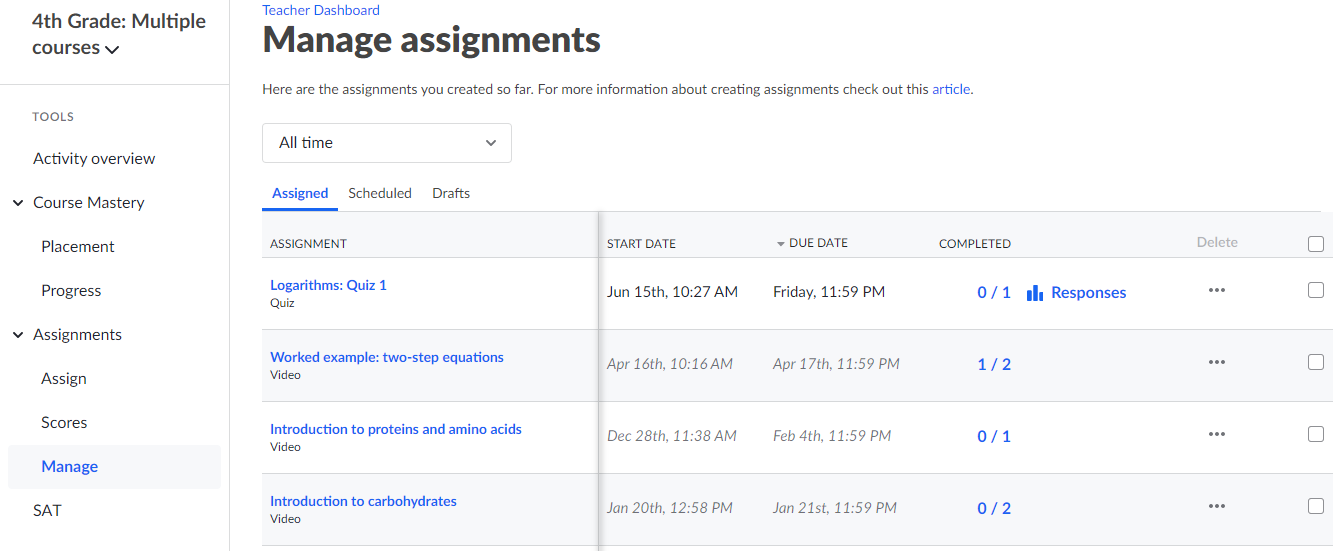 By clicking the link in this column for a specific assignment, you will be able to see how many times each student completed the assignment and their best score on the assignment. You can also download a CSV file of this report for your records.

How do I see a student's performance on all displayed assignments?
If you want to see an individual student's performance on all displayed assignments, click the student's name.

From this view, in order to select a different student, click on the Switch Students dropdown and select a different student.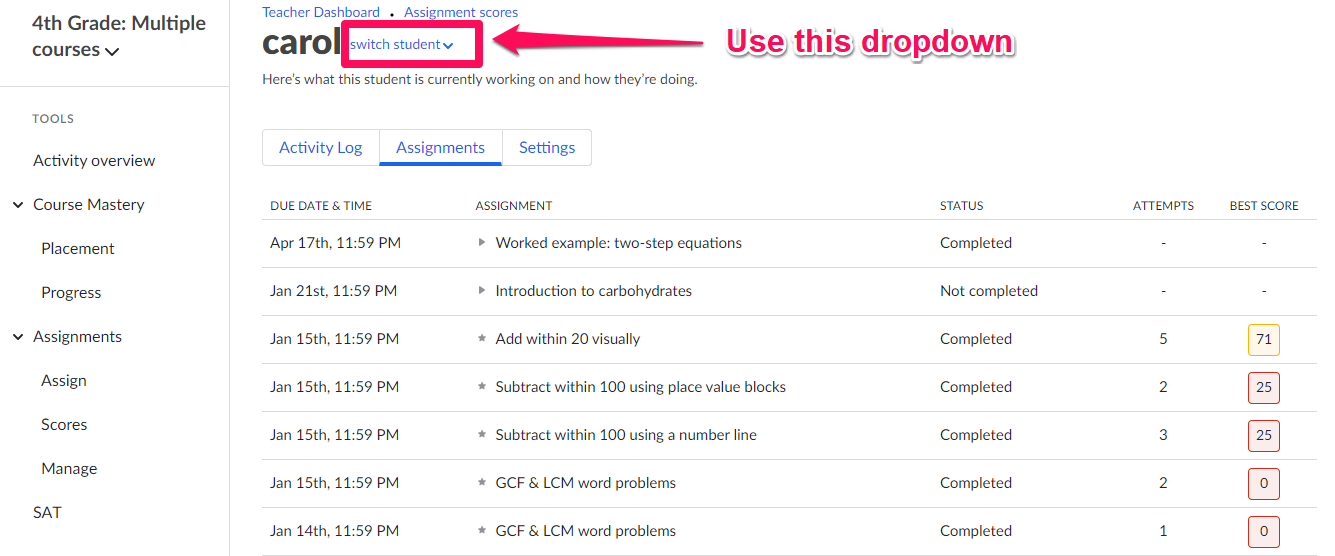 If you would like to focus on a specific time period, use the time filter. This will allow you to filter assignments by the due date.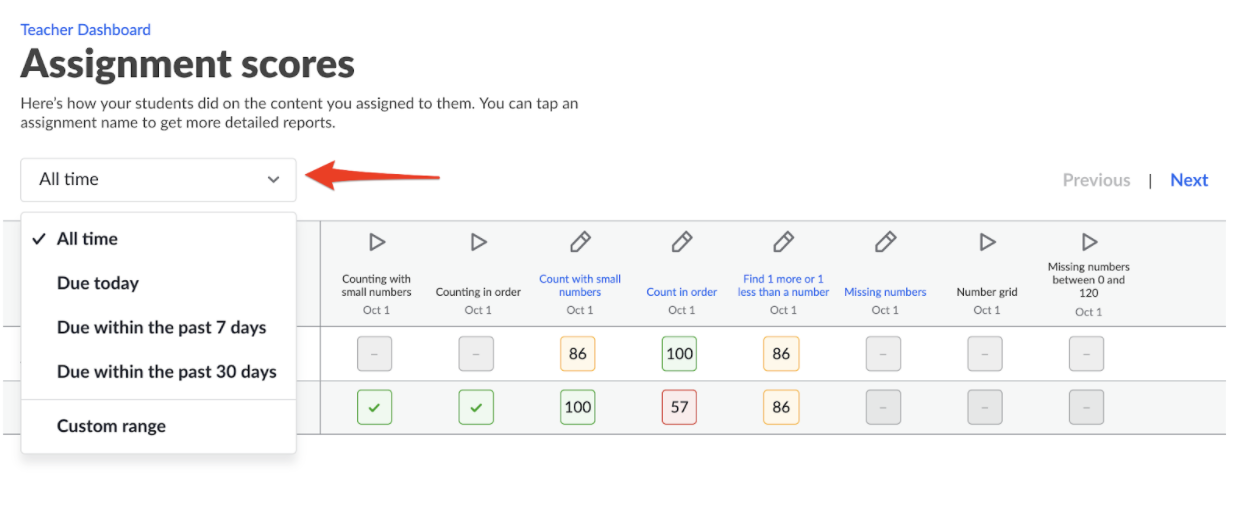 Additionally, a new and cool progress tracker was created by our team! It was designed to be very complete, which allows teachers to easily follow their students' progress throughout their learning journeys, especially for those who teach several classes and subjects. Below is a sneak peek of what the progress tracker looks like.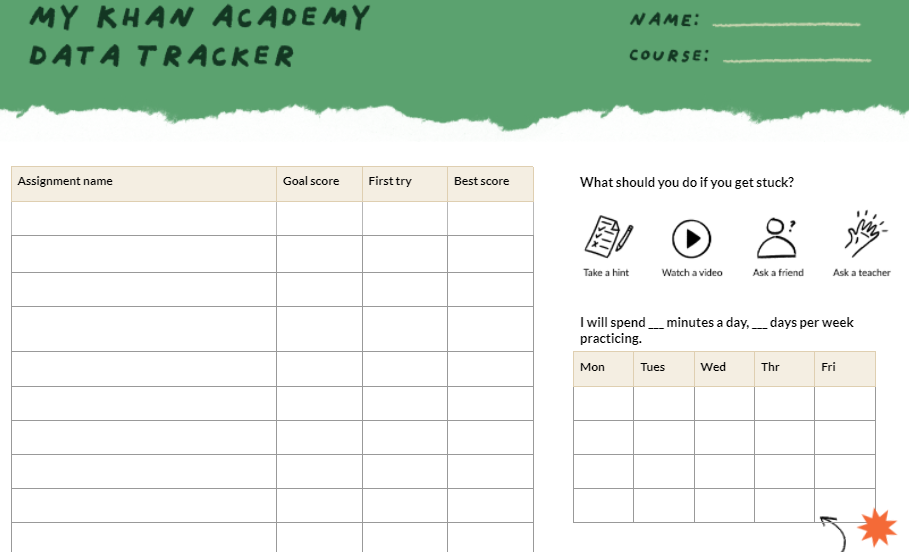 Teachers can access it by clicking here, and they can also print it to use the tracker with their classes!