How do I get started on Khan Academy?
Updated
Welcome to Khan Academy! Follow these five steps to begin using Khan Academy with your students.
Step 1: Create your account.
Go to khanacademy.org. Select "Teachers, start here" and follow the prompts to create your account.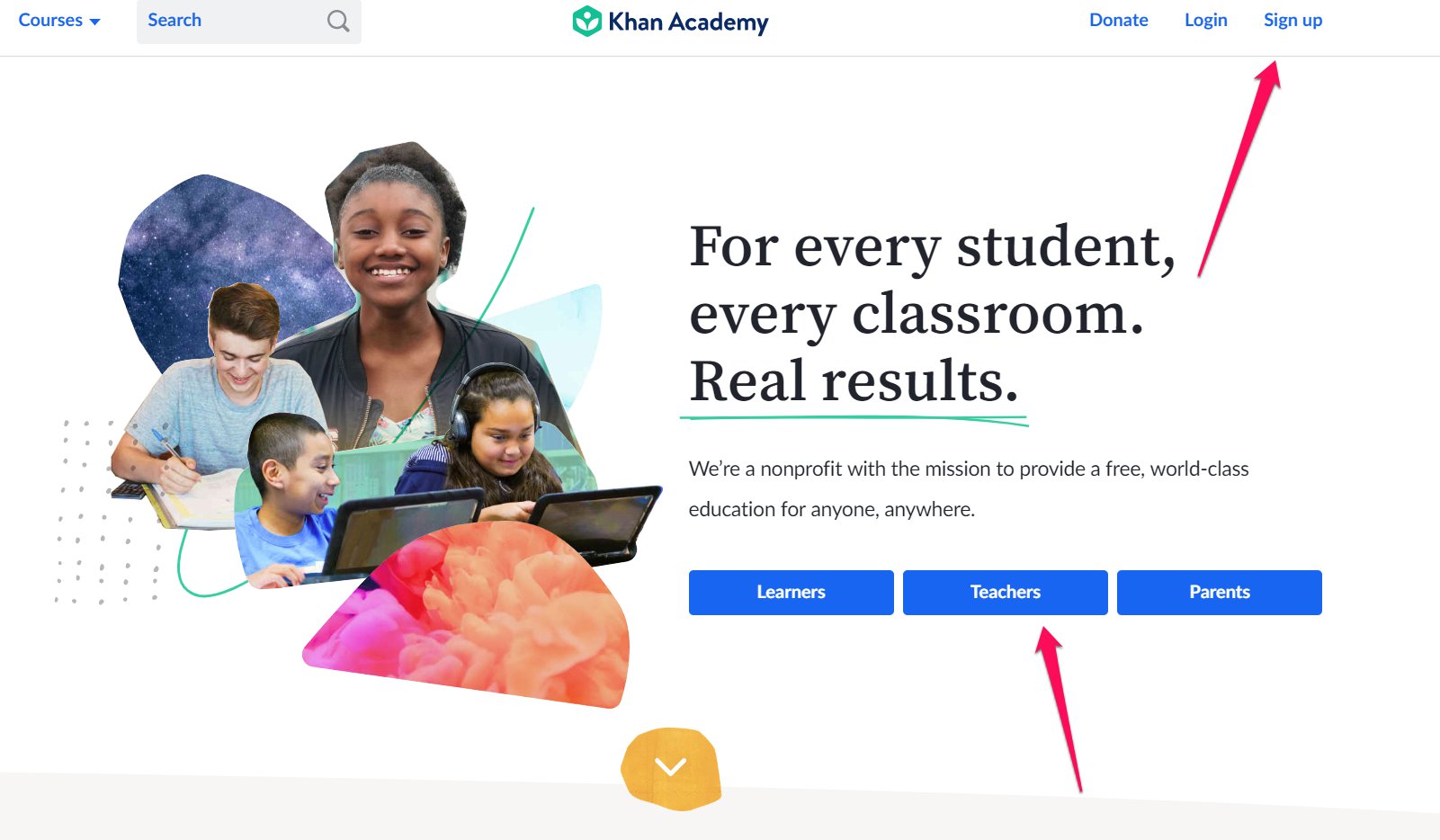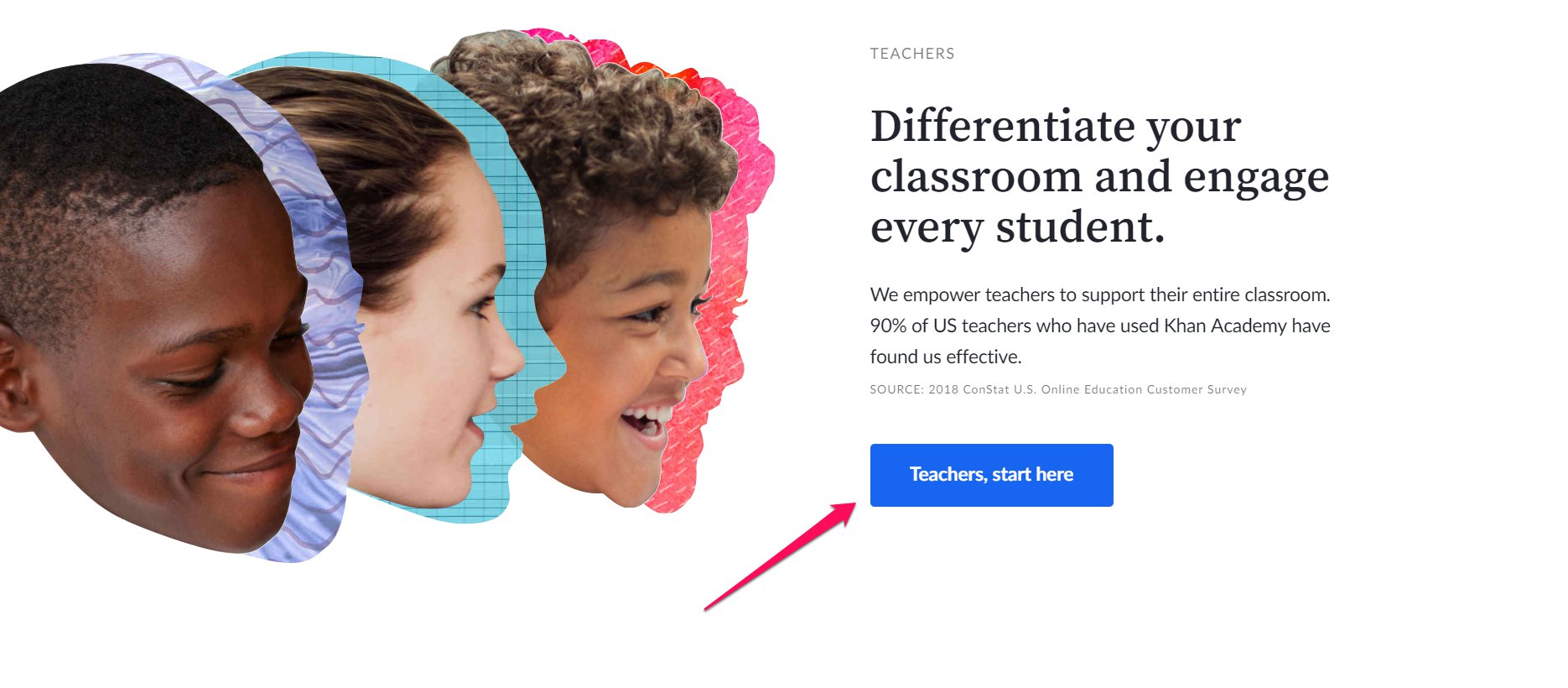 Note: No matter what you select, once you start creating your account you'll have the option to identify yourself as a learner, teacher, or parent. For more information about creating your account, click here.
Step 2: Add your school.
The first time you log in to Khan Academy as a teacher and land on the Teacher Dashboard, you'll be asked to add your school.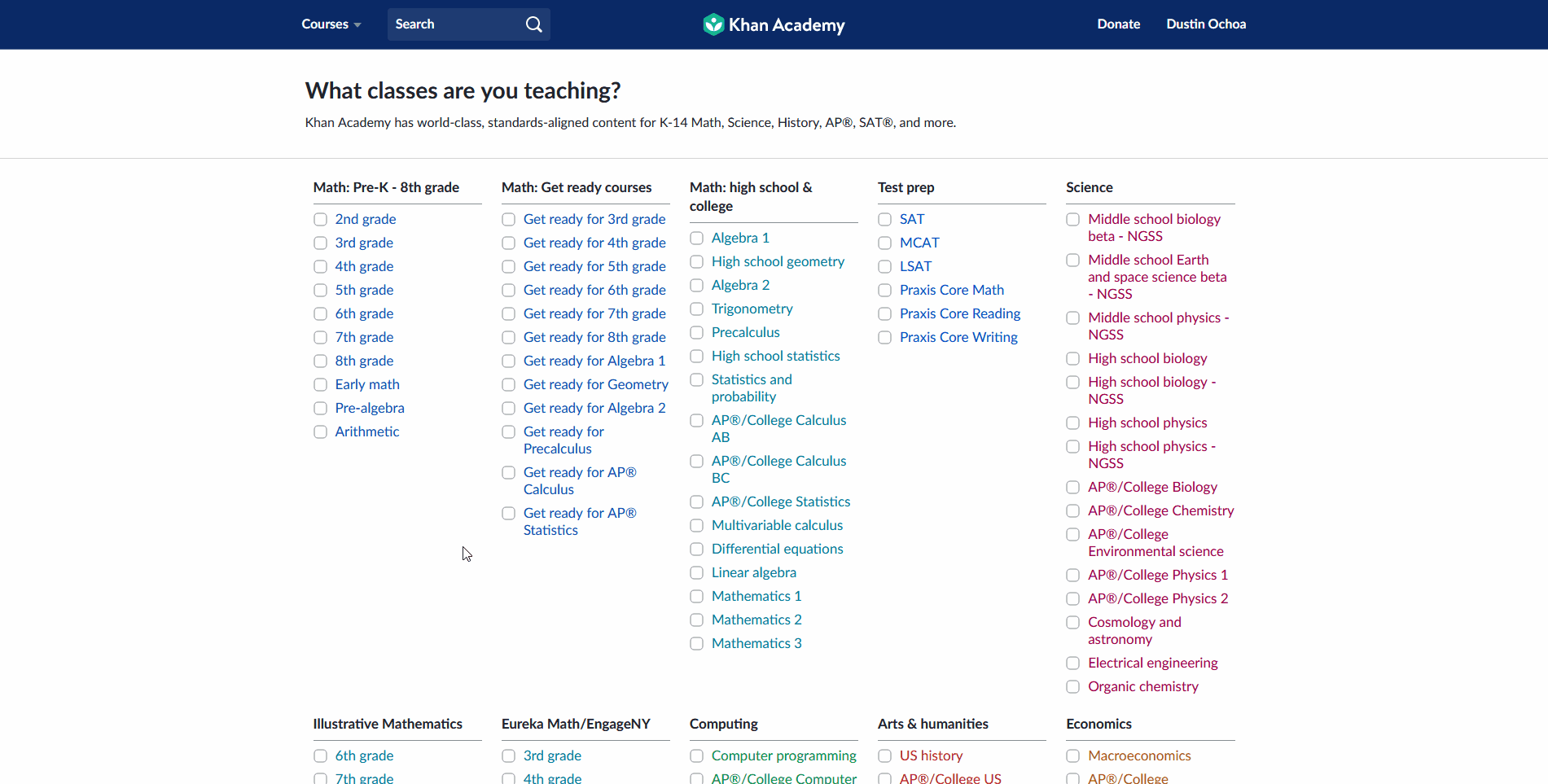 For more information about the "Add your school" pop-up, please read this article.
Step 3: Create a class.
Go to your Teacher Dashboard, accessible through the username dropdown menu at the top-right of the screen. Click the Add new class button.

Either enter your own class name or import a class from Google Classroom. Then, select a subject for your class. For more information on creating a class click here.
Note: Adding a subject allows Khan Academy to suggest relevant content for you to assign. It will not prevent you from assigning other content to students or prevent students from practicing on other parts of the site.
Step 4: Add your students.
There are four ways to add students to your class:
Have students add themselves by class code. Each class has a unique class code. Students can enter the class code at https://www.khanacademy.org/join to join your class.
Link to your Google Classroom account and import the class. You will need your username and password for Google.
Invite students via email. You will need a list of student emails.
Add students without email accounts. You'll create Khan Academy accounts for them.
Step 5: Navigate the site with confidence.
The Teacher Dashboard is the teachers' homepage on Khan Academy. You can always get back to it by clicking the top-center Khan Academy logo or by clicking Teacher Dashboard in the username drop-down menu in the top-right corner of the screen.
Note: Your account may say Add students instead of Teacher Dashboard if you do not have any students yet.
If clicking the Khan Academy logo doesn't take you to the Teacher Dashboard, you'll need to change your settings. Click on Settings in the top-right username drop-down menu, scroll down to Roles and make sure your Homepage is set to Teacher Dashboard.