Guide to the LearnStorm tracker classroom engagement tool
Updated
The LearnStorm tracker, Khan Academy's beloved classroom engagement tool, has had a makeover and is now available all year long for teachers across the globe to use in their classrooms!
In addition to being available year-round for teachers worldwide, the LearnStorm tracker now records when students level up in assigned skills, rather than in the number of assignments completed.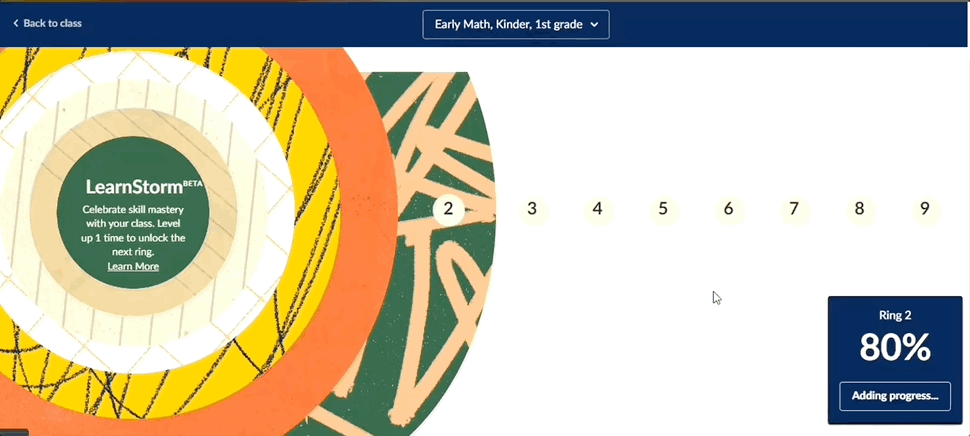 Below is a guide on how to use this tool with your students:
After working on skills that have been assigned from Mastery-enabled courses, students' progress will be recorded on the LearnStorm tracker. Students must progress past the Proficient Mastery level in assigned skills in order for their work to be registered on the tracker.
In order to see the combined progress of the class on the tracker, teachers click the LearnStorm tab within the classroom page. Then, by clicking the "Check for progress" button, a colorful animation showing the rings growing will appear.
A full ring is completed once the equivalent of 1 Mastery level up per number of students in the class is achieved

For example, a class of 26 students will complete a full ring each time the class reaches 26 Mastery levels up

Only Mastery level ups past the Proficient level count on the tracker
How to use LearnStorm
Go to the Teacher Dashboard and select a class
Please note that a Khan Academy teacher account is required to do this.
If needed, here is a reminder on how to create an account and how to create a class



Create assignments or course Mastery goals for your students
Please note: only work done on assigned skills will be recorded on the LearnStorm tracker

If needed, here are some reminders about how to add students to your class, how to create assignments, and assign course Mastery goals.


After your students have leveled up on assigned skills, click the "LearnStorm" tab in your class



Click the "Check for progress" button
Please note: this is a one-time only animation, so make sure your students are watching, as it cannot be replayed

Watch the rings go up and celebrate all your students have achieved.
The more rings your complete, the more surprise animations you may find!

NOTE: If you would like to skip through the ring animation and see the final level achieved, please refresh the page while the rings are growing. Below is a gif showing this:

Ready to set a new goal with your class and start a new LearnStorm? Click the "Clear all rings" button in the top right-hand corner of the tracker. Then, confirm the reset by clicking the blue "Clear all rings" button on the popup.

Important elements to note:

When the "Clear all rings" confirmation button on the popup is clicked, it does not affect Student Progress, but all ring progress on the tracker will be lost. The rings cannot be recovered after the "Clear all rings" confirmation on the popup has been clicked.

If your class is enrolled in a Khan Academy-run challenge and you click the "Clear all rings" confirmation button on the popup, your class's score will now show as zero in the challenge
FAQ
What has changed about the LearnStorm tracker since last year?
Previously, the LearnStorm tracker recorded the number of assignments completed by students. Now, it records when students

level up in Mastery for assigned skills

.

The tracker is now automatically available year-round for any class on Khan Academy to use. There is no need to enroll your classes anymore in LearnStorm in order to use this engagement tool. All you need to do is create assignments or Mastery goals and have students level up on assigned skills.

Khan Academy occasionally runs contests called LearnStorm challenges. Participating in them makes your class eligible for prizes.




More information about the Challenges and prizes can be found here:

This year, the LearnStorm tracker is available for teachers globally

This year, teachers who are part of the MAP Accelerator program will have access to the LearnStorm tracker as well!
Is there a limit to how many rings can be earned on the tracker?
There is no limit to how many rings classes can earn on the tracker. It will keep recording progress indefinitely.
What content counts toward progress on the LearnStorm tracker?
When students complete assigned quizzes, exercises or unit tests from Mastery-enabled courses, any mastery levels up achieved by students during those assignments will be recorded on the tracker. Watching assigned videos or reading assigned articles will not result in leveling up in Mastery, and therefore will not be recorded on the tracker.
Skills leveled up when a student completes a Course Challenge or Mastery Challenge in pursuit of an assigned Mastery goal will also be recorded on the tracker.
Does every student enrolled in the class need to complete work in order for the rings to grow?
No, progress is recorded cumulatively as a class, meaning it does not require every student to level up in a skill to complete a ring.
The rings will grow for every Mastery level up on assigned skills that has occurred in the class.
Any additional ideas about how I can use this tool with my students?
Yes! For more ideas about how to set and celebrate goals using the updated LearnStorm tracker, please check out this article which features implementation suggestions from other teachers.
Why does the LearnStorm tracker say "Beta"?
Since the updated LearnStorm tracker was just released, it is still in its Beta phase and will be throughout the 2022-2023 school year. That means we are actively gathering feedback from teachers like you to improve this feature. The Beta label will be taken down at the end of the 2022-2023 school year.

Questions? Reach out to our support team. We are here and always happy to help!
Additional resources: