Guide to the Parent Dashboard
Updated
Parents are key in supporting their children's learning on Khan Academy. 
We've simplified the Parent Dashboard, and you will still be able to connect with your child, edit their settings, and view their progress.
You will see this new page when you log in, and your children will appear here: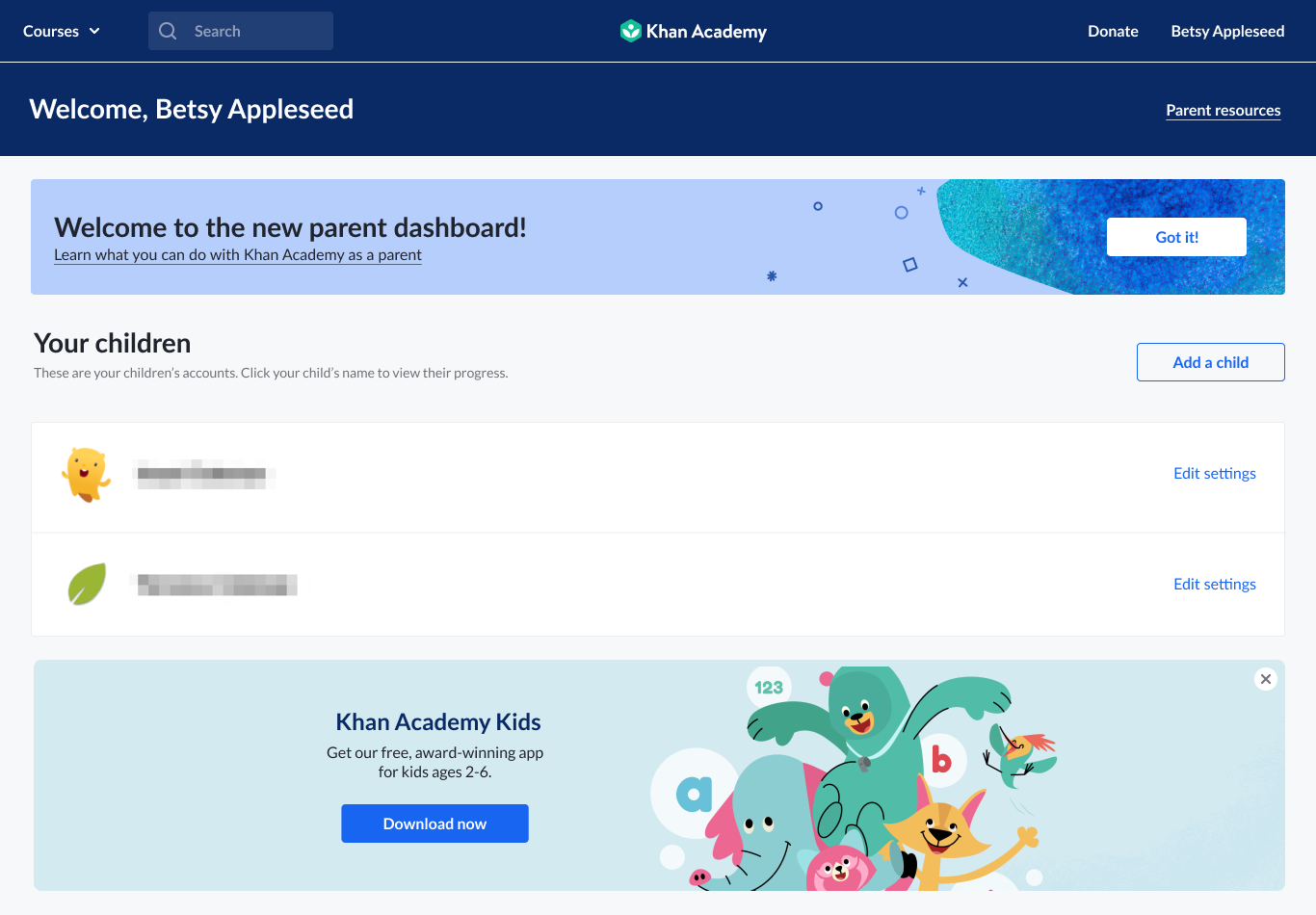 Creating Child Accounts
You can add a new child by clicking Add a child on your Parent Dashboard. (You can also do this from your account's Settings page).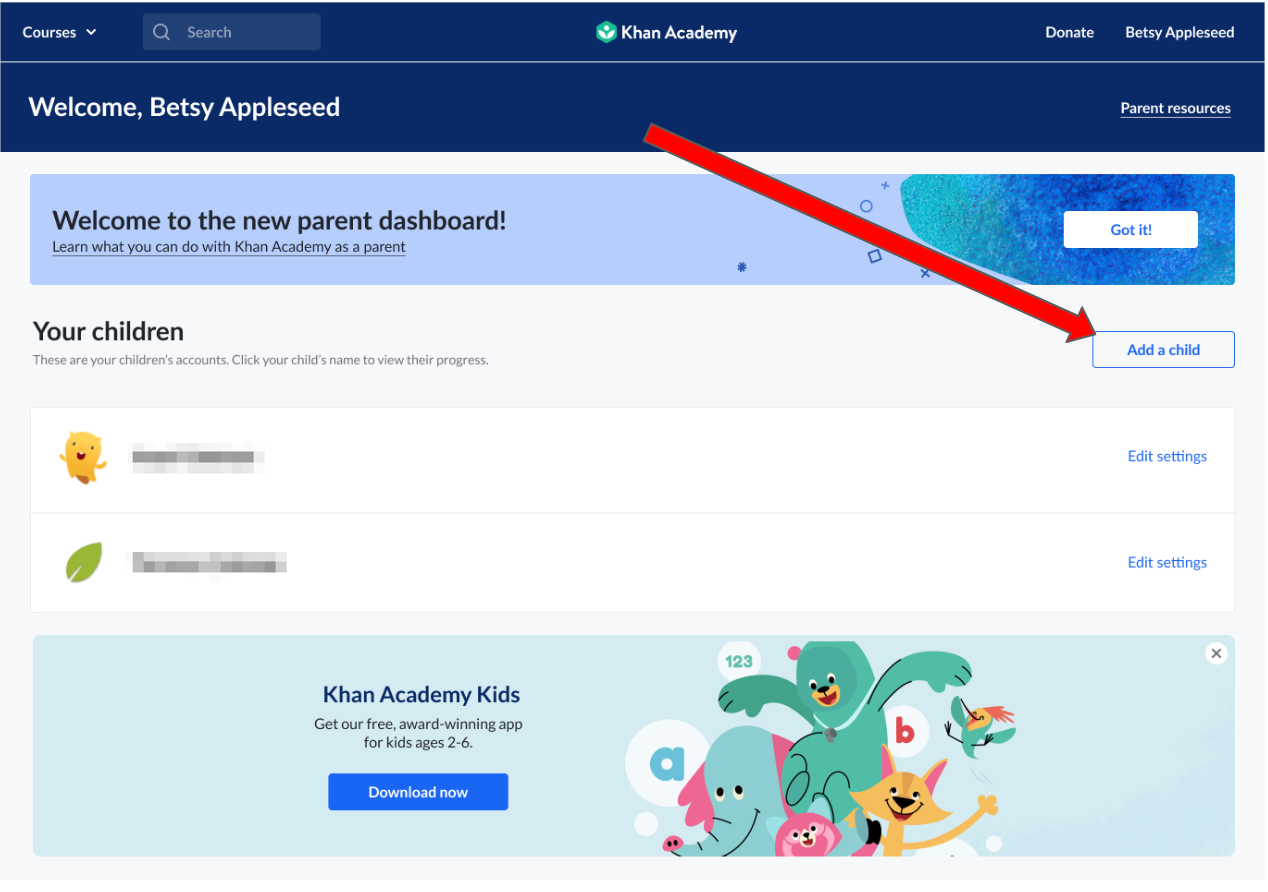 Then you'll be directed to create your child's account.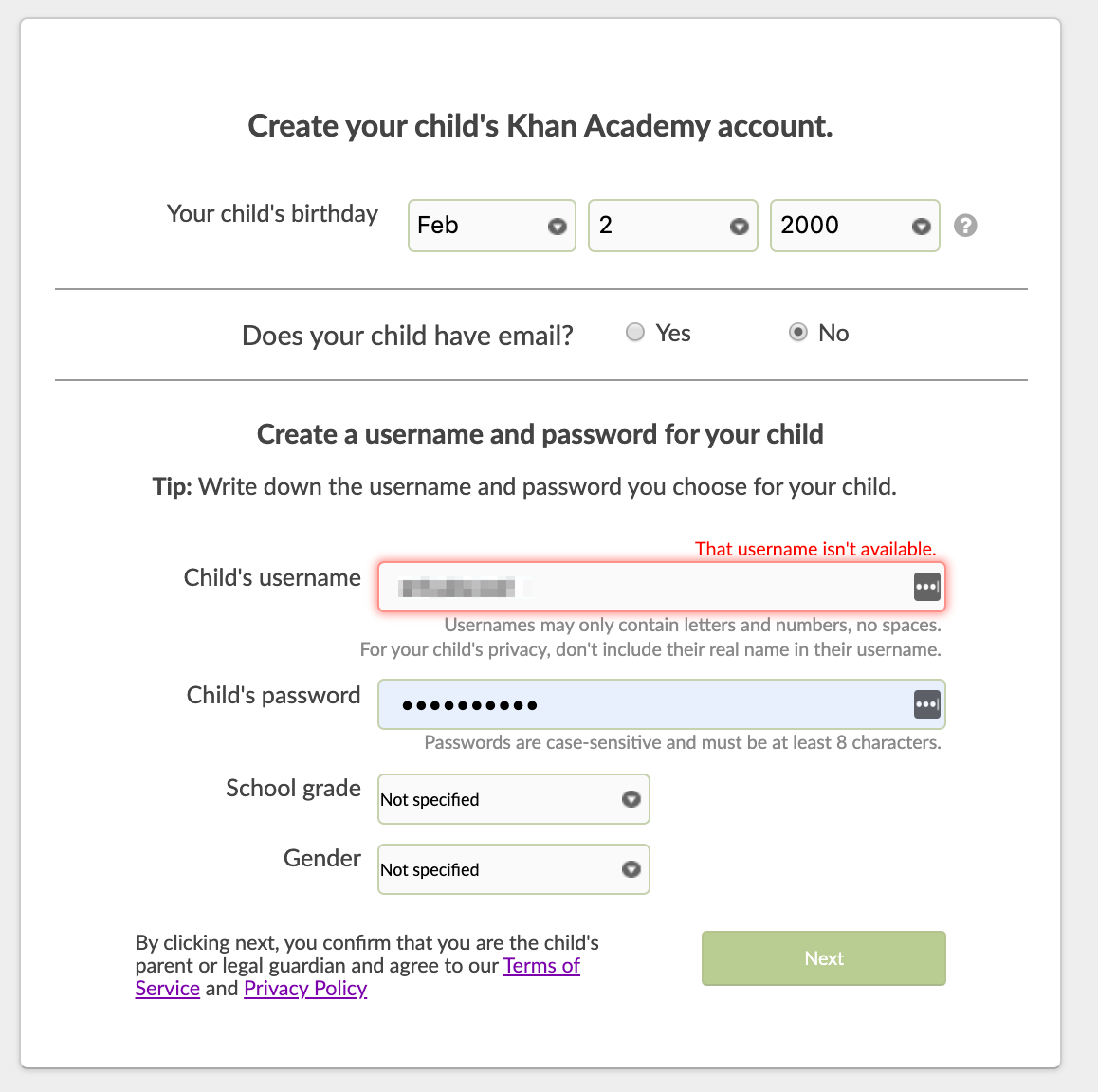 Managing Account Settings
From the Parent Dashboard, you can click Edit Settings to make adjustments to your child's account if they are younger than 13 years old. If your child is 13 or older, they are able to adjust their own settings.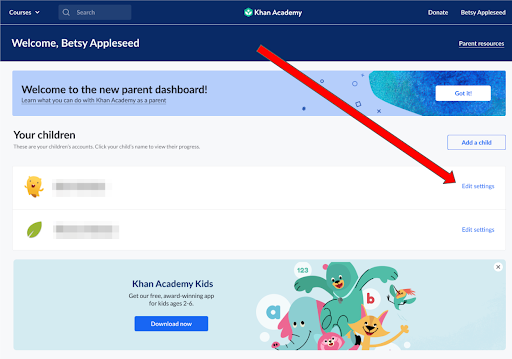 Settings View for a child who is younger than 13: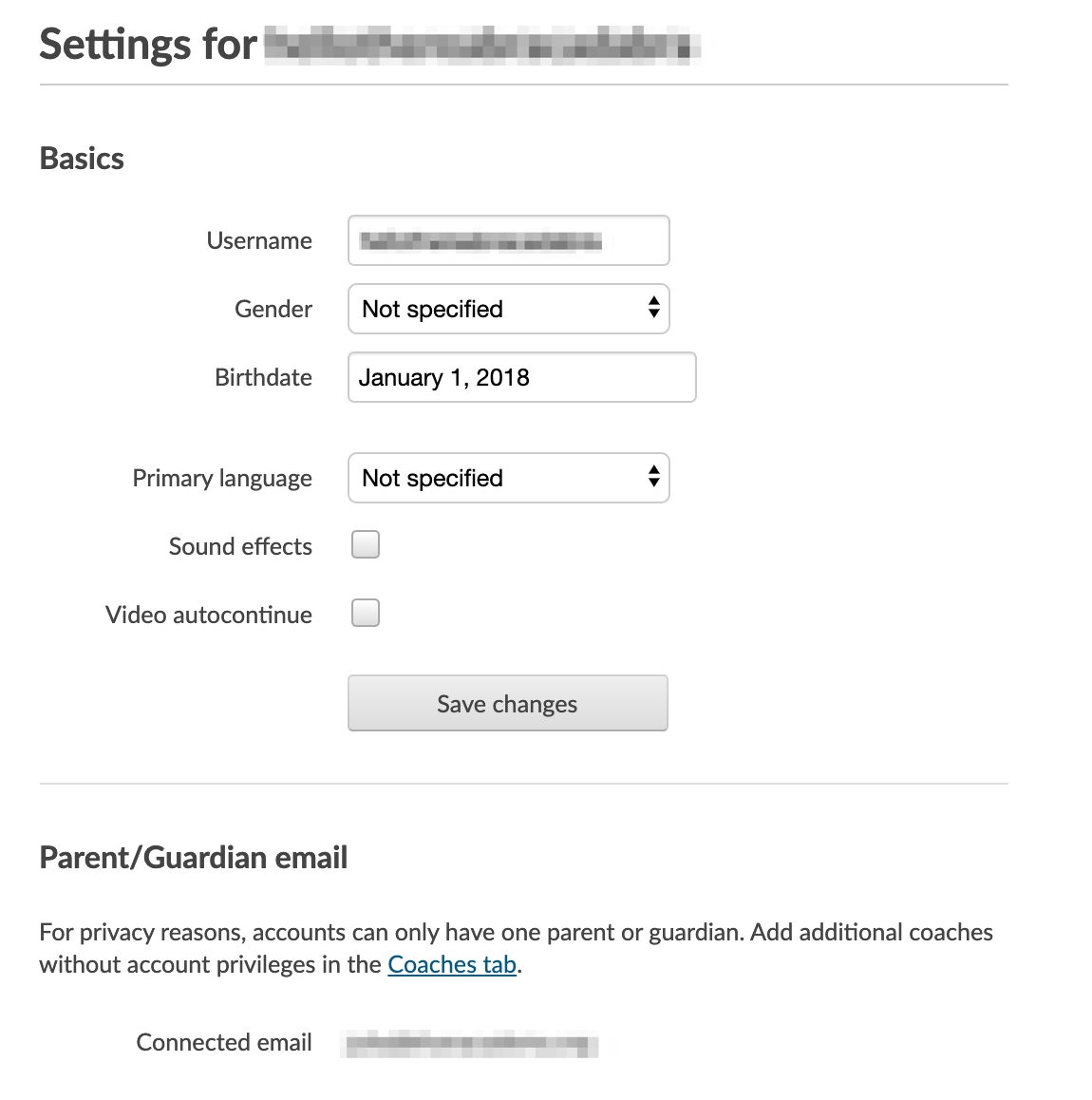 Settings View for children who are 13 or older:

Navigating to the Parent Dashboard
You can always navigate back to the Parent Dashboard by clicking your name in the top right corner and selecting Parent Dashboard. You can also access it by clicking Khan Academy at the top of your screen.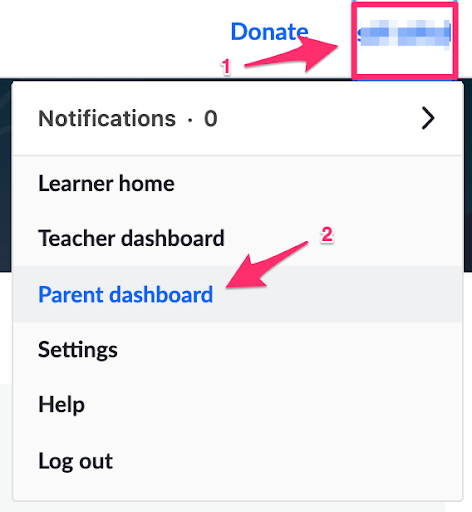 Understanding Course Mastery
At Khan Academy, we provide a personalized, mastery-based learning system. Mastery learning means that your child will continue to work on a concept until they can master that concept or skill. You can tell your child has mastered a skill when they apply that skill to successfully complete a job or a task that requires it.
Many of our courses use the Mastery system -- here's a full list of courses that use Mastery. You and your child can find these courses (and any of our courses) in the Courses dropdown menu in the top left corner of any page.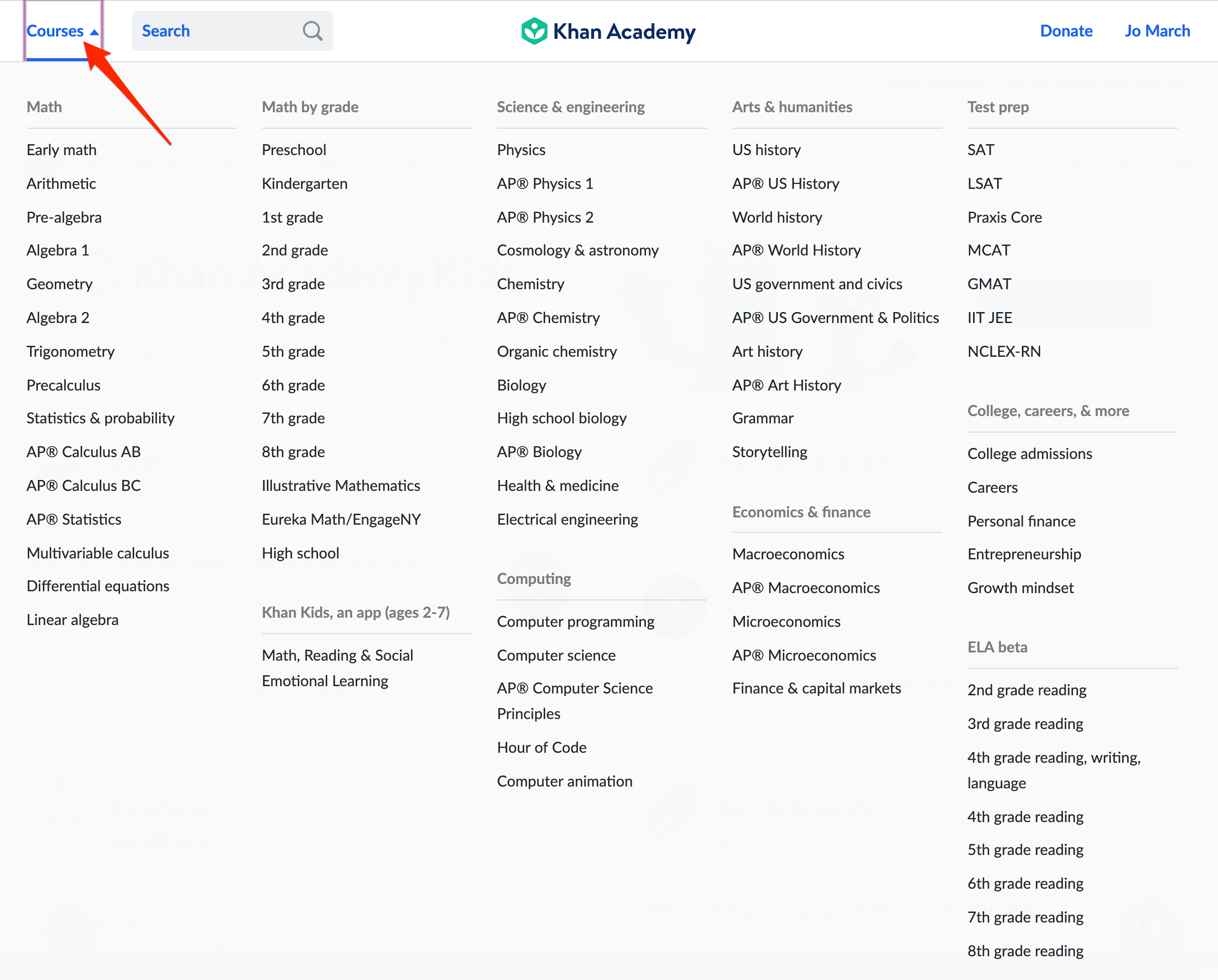 Getting Your Child Started with Learning on Khan Academy
If you're not sure what course your child should work on, we suggest reaching out to your child's teacher, if possible, to get their advice on where to start. If their teacher isn't available, look at your child's homework and ask them questions about the topics they're covering in class. Look for online resources that match those topics.
To start learning in a course, your child will click on it's name in the Courses dropdown menu. In this example, they chose High School Math, so they were taken to the High School Math course page.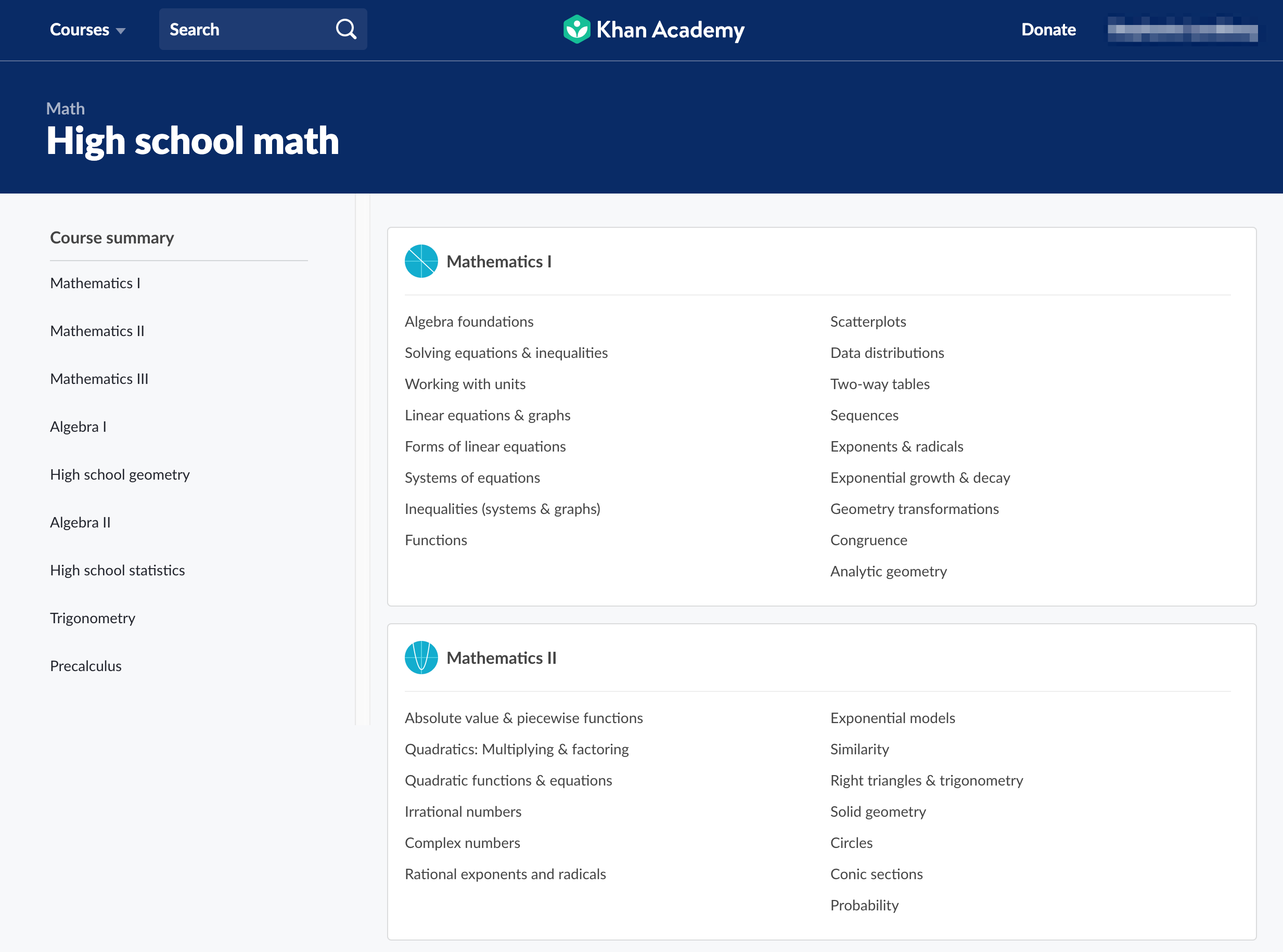 They can then choose the unit they'd like to start learning in. In this example, they chose Mathematics I.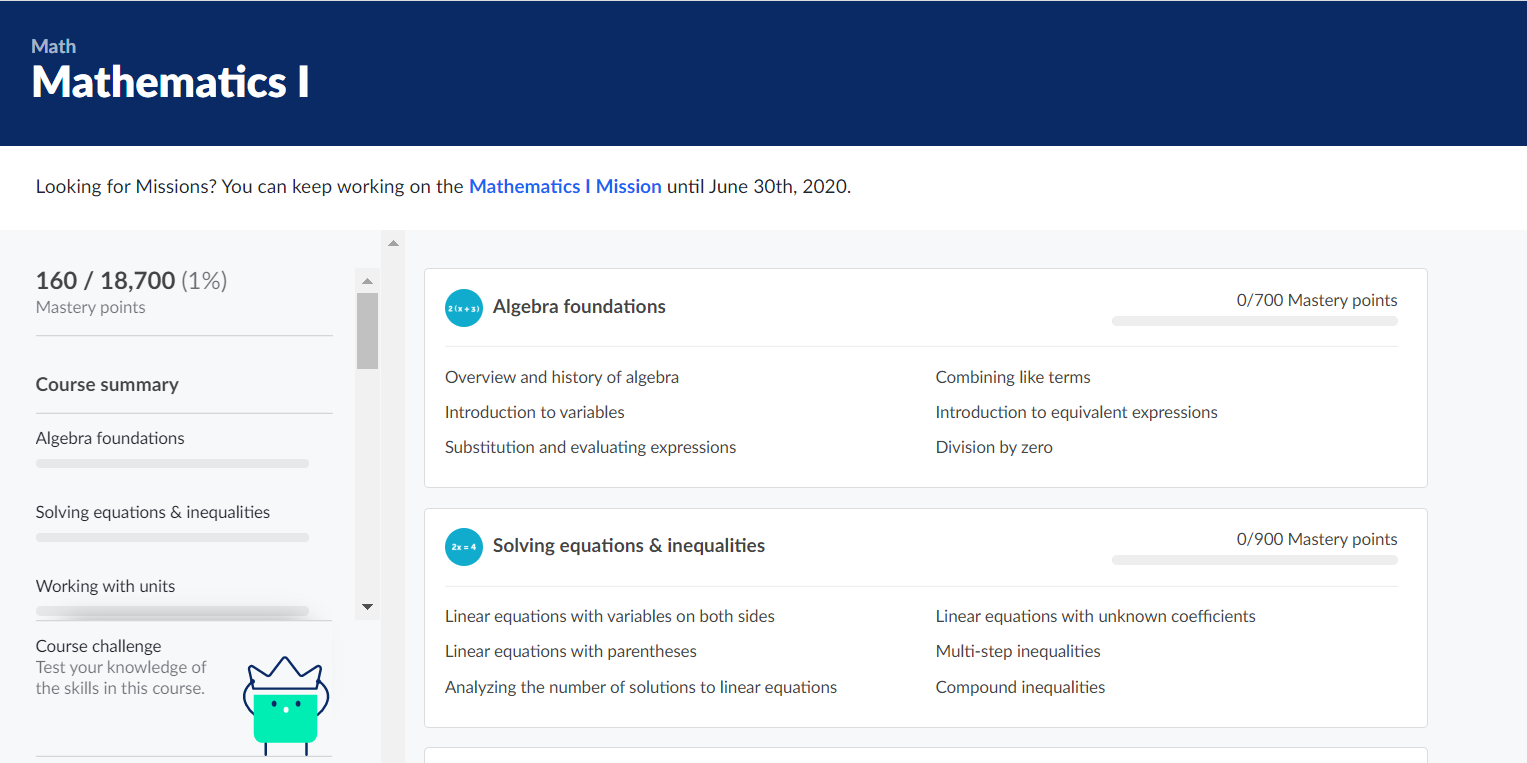 Now that they're on the unit page, they can choose any video, article, or exercise in the lesson they'd like to work on. In this example, they chose the Overview and history of algebra video under Algebra Foundations.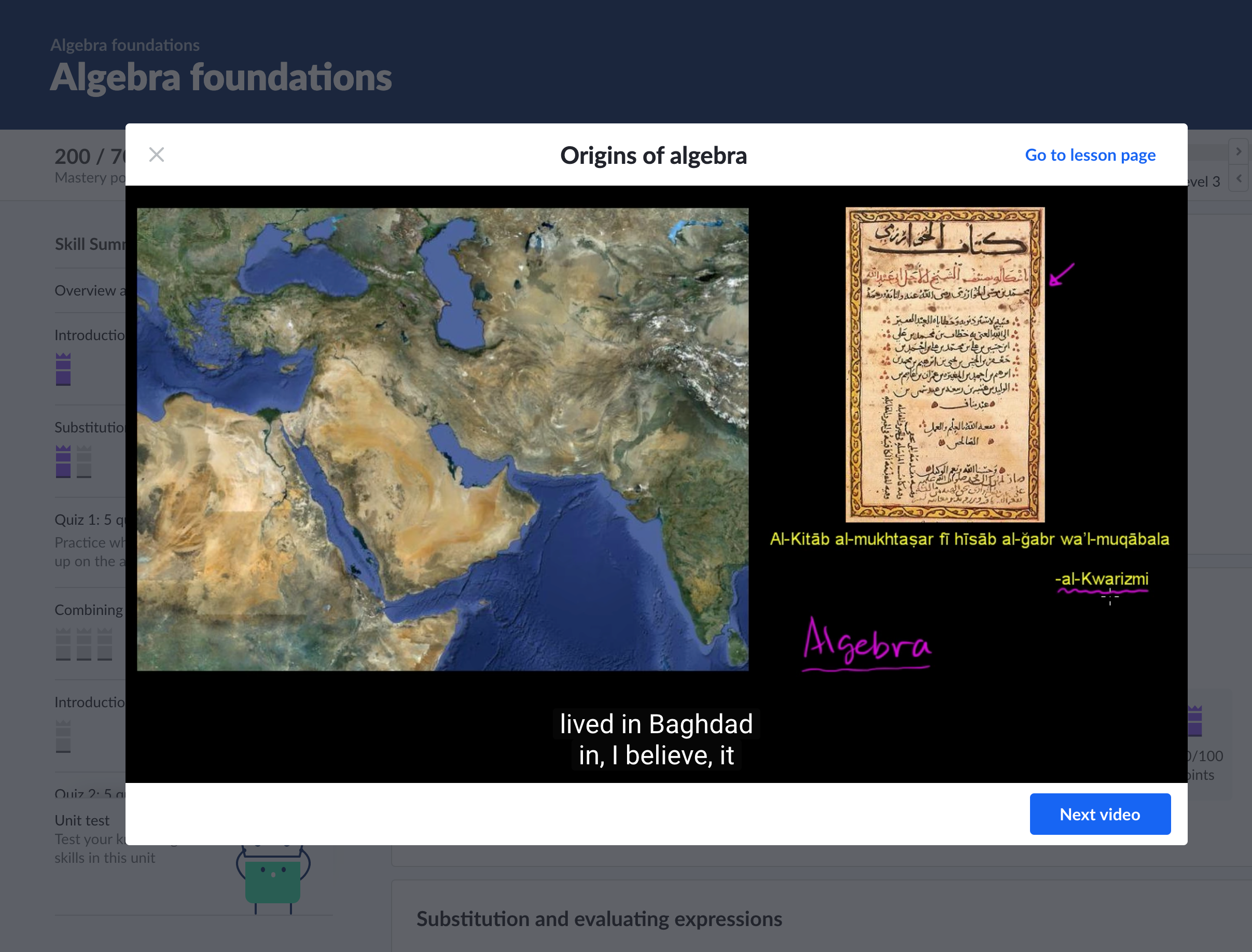 Following Your Child's Progress
You can view your child's progress on Khan Academy from your Parent Dashboard. Click on your child's name to view their activity.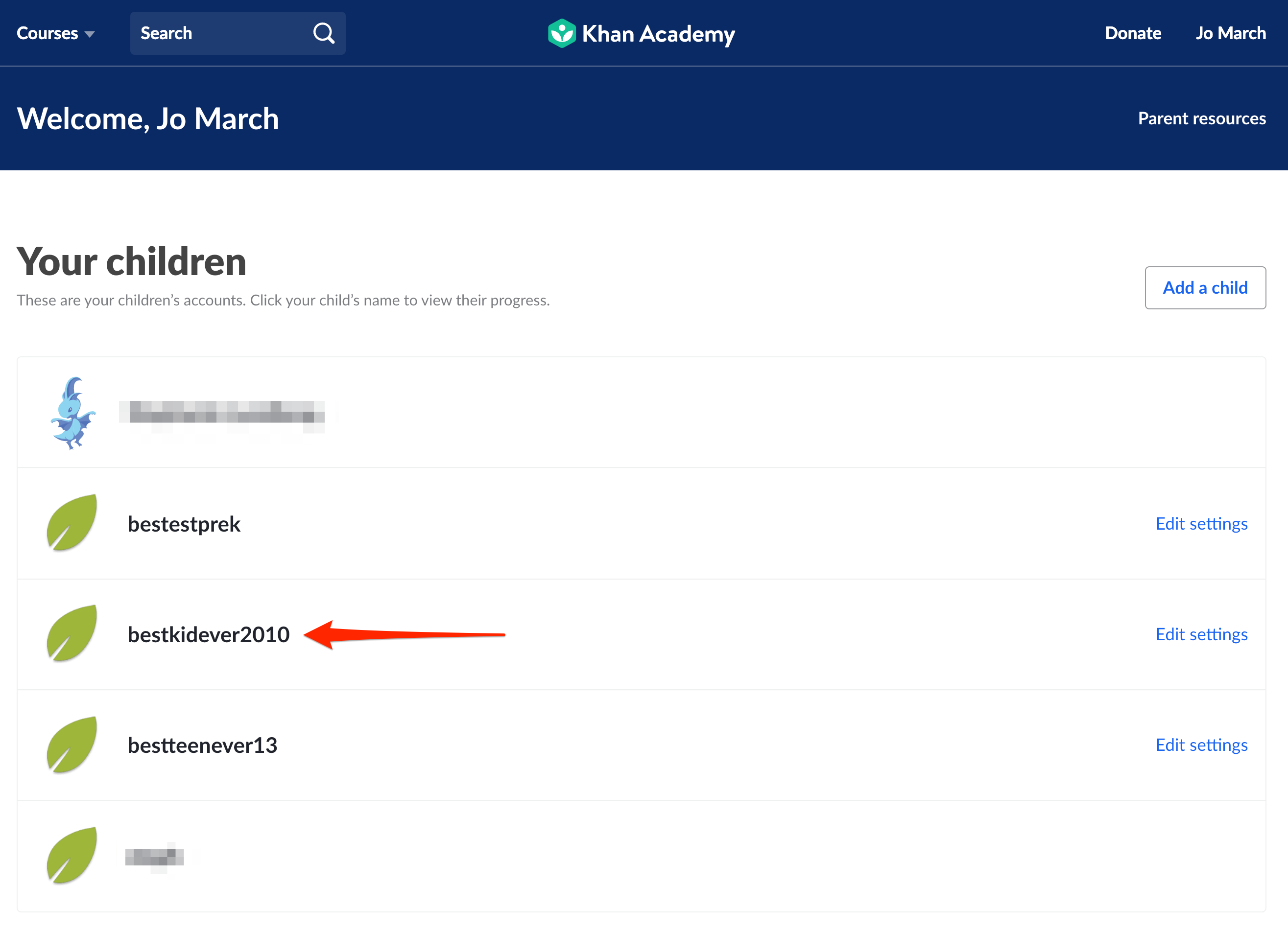 You'll be taken directly to your child's Progress page, but you can also go to their Profile page or their Teachers page from the left side menu.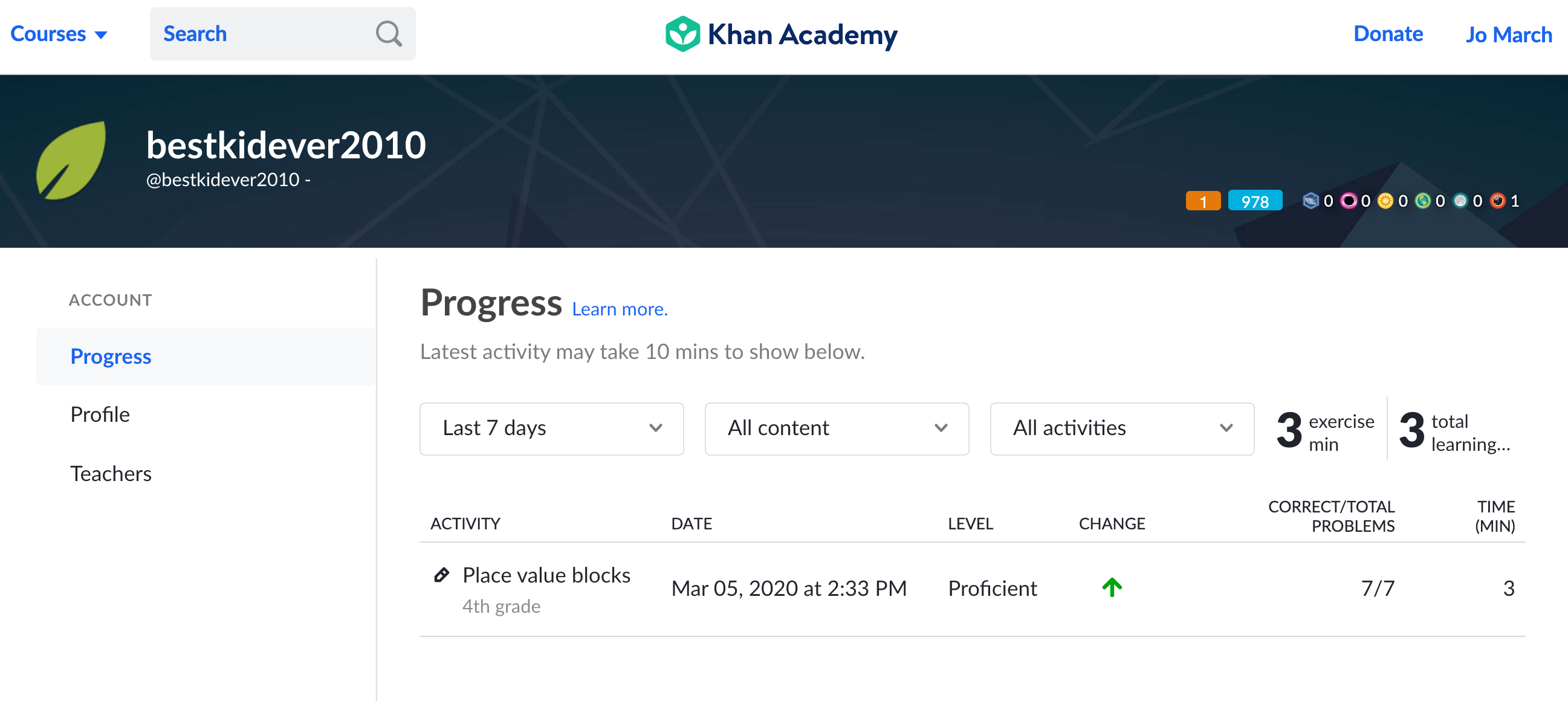 Their progress report allows you to filter their activity by time, content, and activity type (like exercises, videos, articles, quizzes, etc.). You'll see the name of the activity they worked on, when they worked on it, and how long they worked on it.
Additionally, if the activity involved practicing a skill or answering questions, you'll see their Mastery level, if there was any change in their Mastery level during the activity (i.e., did they level up or down in Mastery), and how many problems they got correct versus the total number of problems in the activity.
Note that if your child just completed an activity, it might not show up on their progress report immediately; it can take up to 10 minutes for their latest activity to appear.
Additional Resources
We hope this guide was useful in getting you started on Khan Academy. Here are some additional resources to help you manage your and your child's accounts and help your child get the most out of their learning.
Managing Accounts
More Learning Resources for Parents
We hope you enjoy the parent experience on Khan Academy. If you have any questions or feedback, feel free to contact us here.