How do I report mistakes in videos?
Updated
We sometimes receive reports of errors in videos that have already been corrected with a small text box in the lower right-hand corner.
Here's what a video with correction looks like: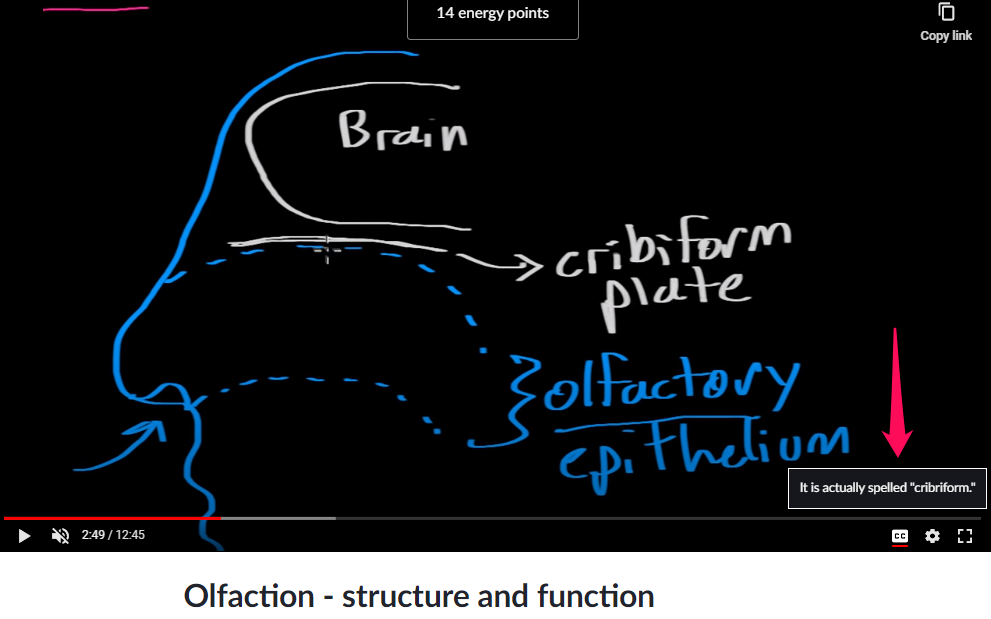 Image caption: A screenshot of a video titled Olfaction: structure and function. The video screenshot shows a drawing of the sinus cavity and its structures. In the lower right corner of the video screenshot, there is a pink arrow pointing to the correction text box, which identifies and corrects a spelling error in a label on the sinus cavity drawing.
Corrections are not visible in full-screen mode. Please watch the videos in small-screen mode first, so you can see if corrections have already been made.
If there is a correction, take notes in small-screen mode first so that you can consult your notes if you watch in full-screen mode later. In a class setting, you can then stop the video at the appropriate moment and explain it.
If you would like to report a new clarification for an error in a video, please follow these steps:
Begin typing in the Ask a question text box under the video or article.
Look for the Report a mistake link to the right and click it.
Clicking this will bring up a new text box below Mistakes.

When you begin typing in this box, directions about how to provide the best feedback will appear above the box.

You can visit this article for more information about the steps listed above and helpful screenshots.
The feedback you provide will go directly to the content team and they'll review it for accuracy. Thank you for helping to improve Khan Academy!
Note: The option to report an error is only available on the website, not in the Khan Academy app.