How do I change my region within the Khan Academy mobile app?
Updated
Since the release of the Khan Academy app v6.4.0, you are able to select the region that best matches your learning goals. In versions prior to v6.4.0, the region is selected by the app automatically based on the learner's location.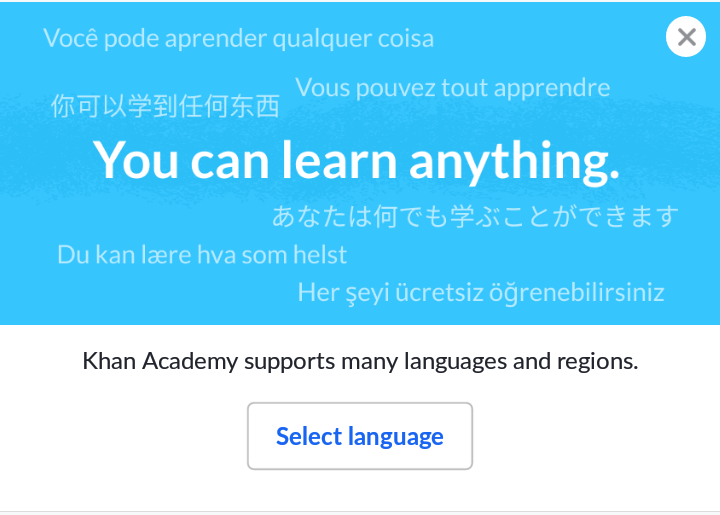 The selection of a region impacts the grade levels and courses listed on a given screen—e.g., the courses listed for every division in the Browse Khan Academy section. However, it does not impact the availability of content for assignments, bookmarks, or recent lessons.
For Android and iOS 13
You will be able to pick your region in languages that have more than one option. For other languages, a default region will be available.
In the table below, you will see a list of all available languages and regions (as of February 2020):
Language

Region Choices

Čeština

Čeština (výchozí)

Deutsch

Deutsch (Standard)

English

Canada

Canada (Alberta)

Canada (Ontario)

English (default)

India

United States (US)

Español

Educación Básica

Perú

Español (por defecto)

Français

Français (par défaut)

Belgium

Programmes scolaires (La France)

Indonesia

Indonesia (default)

Norsk bokmål

Norsk bokmâl (standard)

Polski

Polski (domylny)

Português (Brasil)

Português (Brasil) (padrão)

Português (Portugal)

Português (Portugal) (por defeito)

Türkçe

Hindistan

Türkçe (varsaylan)

български

български (по подразбиране)

Српски

Cрпски (подразумевано)

한국어

한국어

中文

中文 (默认)

Հայերեն

Հայերեն (ի սկզբանե)

বাংলা

ქართული

ქართული (ნაგულისხმევი)
For iOS 12
If your device uses iOS 12, the operating system will automatically set the app's language based on your device's language settings. For more details on what this means, check out this article.
For English or Spanish, you can pick an English or Spanish region accordingly. On the other hand, if you're using the app in a language different from English, besides the default regions, you can pick an experimental English region.
The English region for other languages is an experimental feature and it will work better once iOS 13 is installed on your device.