How do I edit, copy, and delete assignments?
Updated
After you create an assignment, you'll be able to Edit, Copy, or Delete it as needed. Here's how to do that:
From your Teacher Dashboard, click on the name of one of your classes to enter it.

Click on Manage under Assignments in the left sidebar.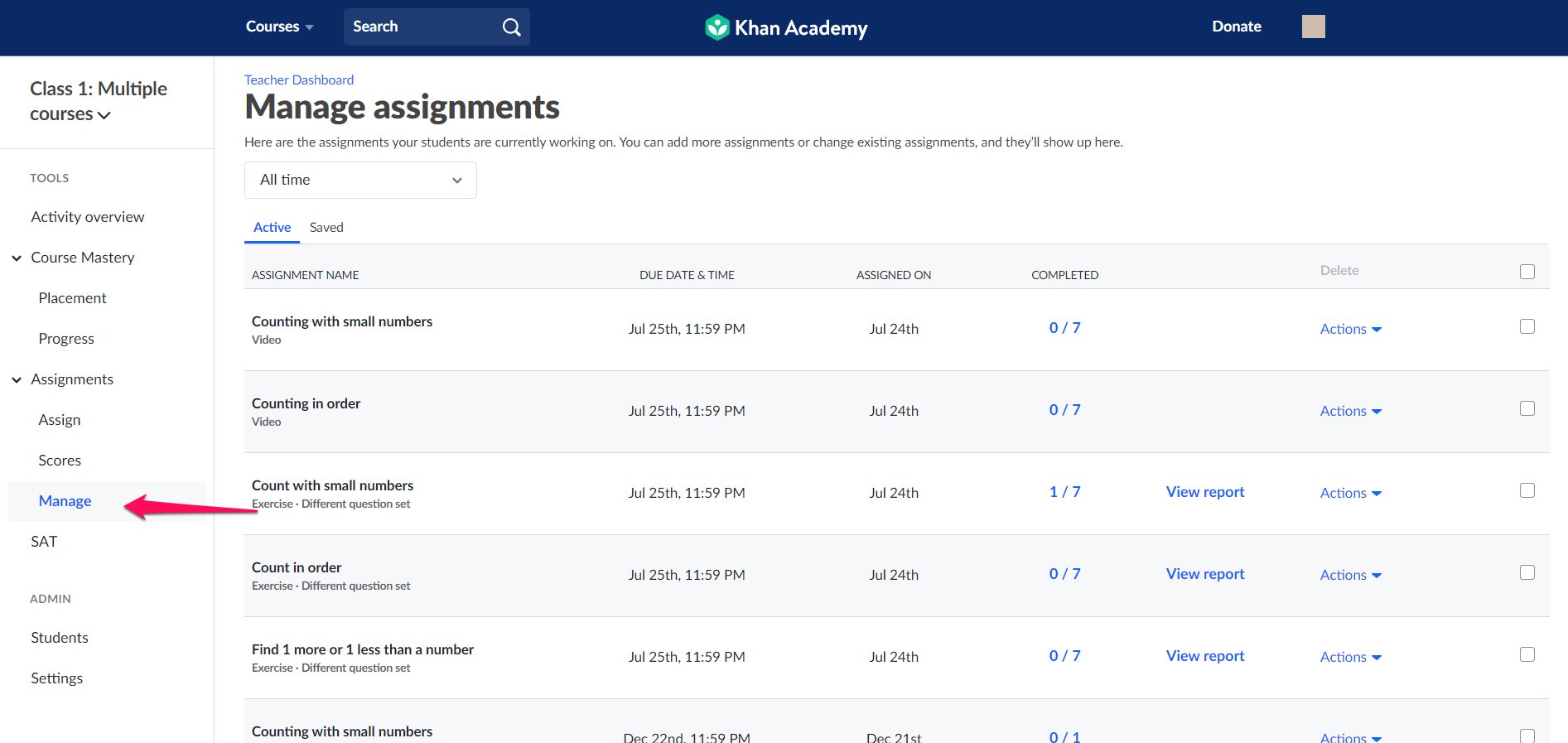 Mark the checkboxes to the right of each assignment you want to manage. See how the Delete option appears in red on the first line.

Next, click on the Actions button on the right-hand side of an assignment.


Each of the options shown will take you to the corresponding action:
Edit: Editing an assignment allows you to adjust the due date and the specific group of students within a class who received the assignment. In the Saved tab, the edit option allows you to assign it.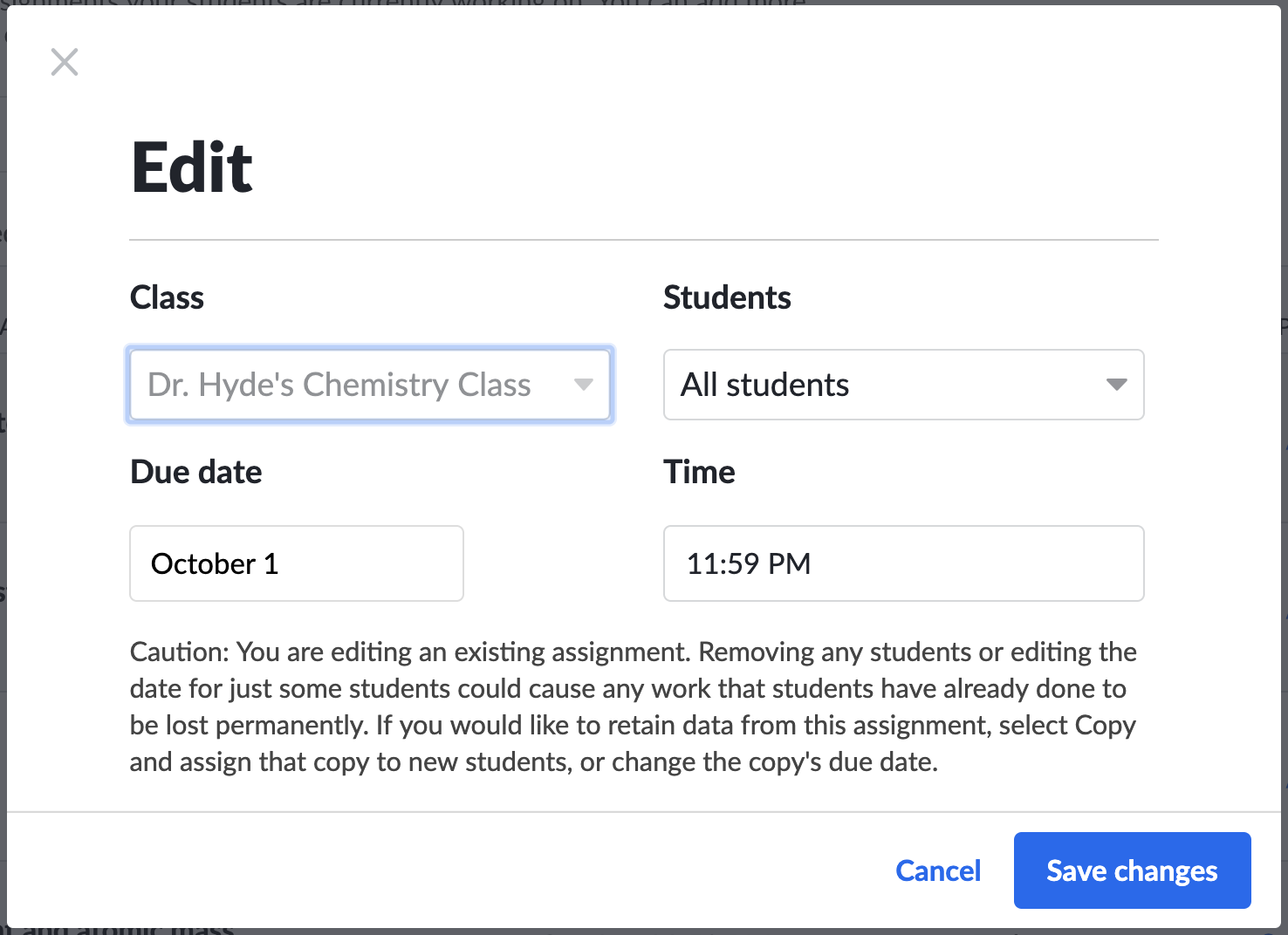 Caution: Note that removing any students, or editing the date for just some students could cause any work that students have already done to be lost permanently. If you would like to retain data from this assignment, select Copy, and assign that copy to new students or change the copy's due date.
Copy:

Copying an assignment allows you to create an identical assignment for a different class.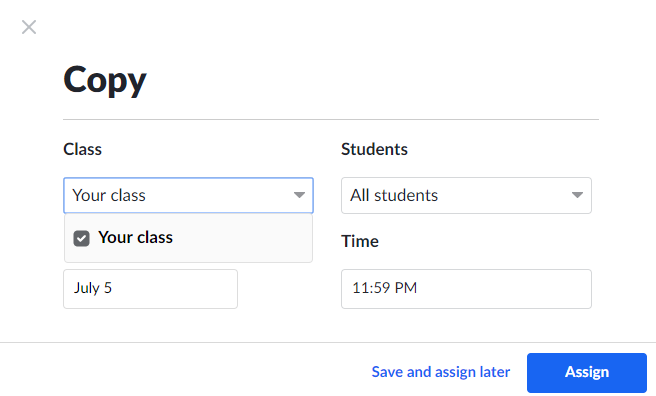 Delete

: Deleting an assignment will remove it from both your assignment page and your students' assignments pages. This action cannot be undone.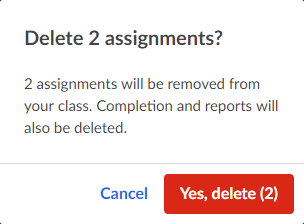 Viewing and editing past and saved assignments
Once the due date has passed for an assignment, it will still show up on the Active assignments tab, but you may need to scroll down and click on the Next button to find it. Your students' performance data will be saved for you to look back on later. You can still edit, duplicate, delete, and extend the due date for past assignments.
If you save an assignment, it will show up on the Saved tab. You can post your saved assignments at any time.

To assign something you have saved, click the Assign button next to the assignment. You can also select the saved assignment and choose Edit in the Action menu, make any changes you would like to the due date or group of students who will receive the assignment, and then click Assign, just like you would with a new one.