How do I use the MAP Accelerator Districts Skills Progress Report?
Updated
Our new Skills Progress report shows students' skill level performance and progress toward mastery at the school or district level, granting School and District Administrators deeper insight into which skills students have demonstrated understanding, and which ones might still need more focus.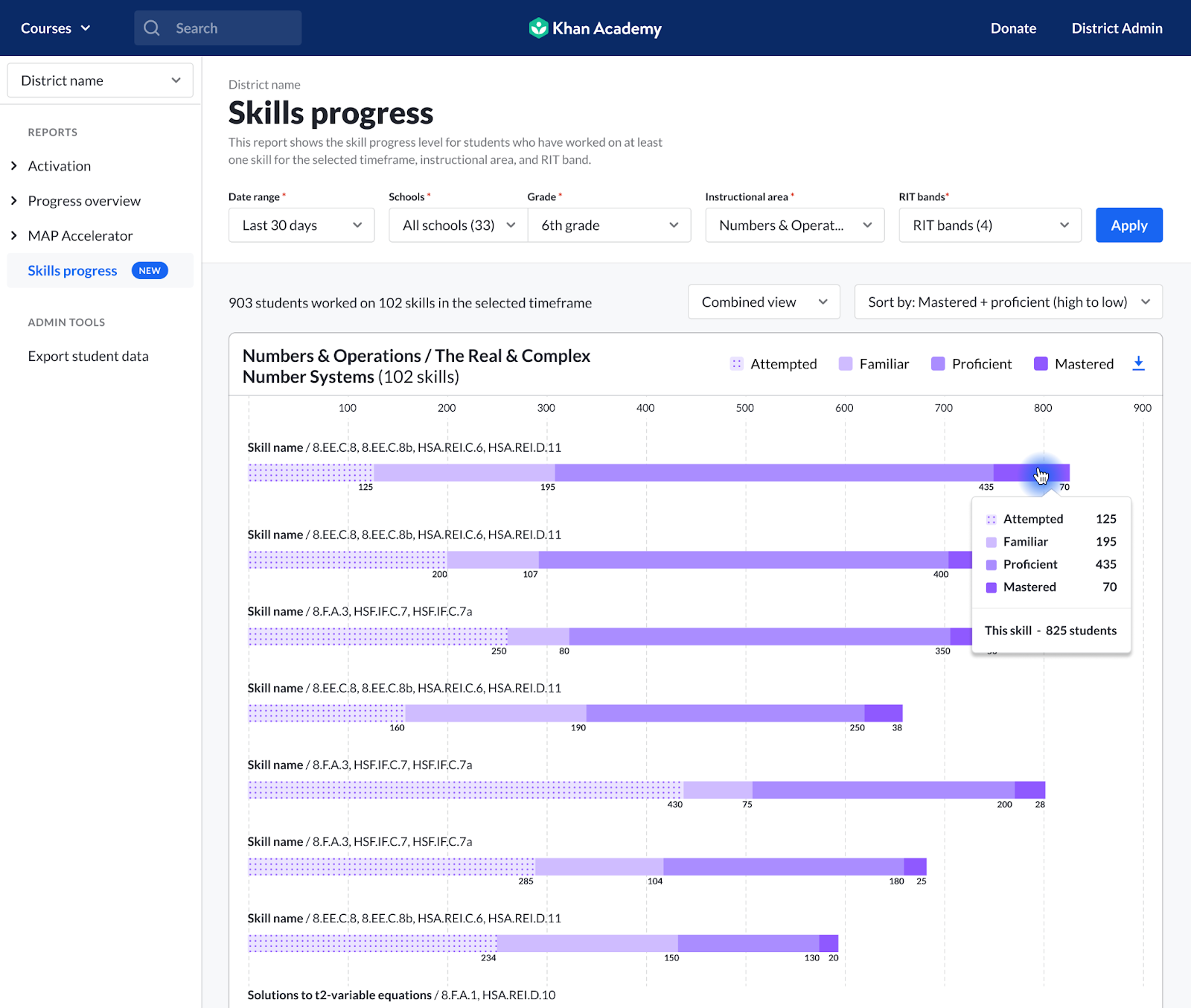 The Skills Progress selections page
Ready to start? First, click on Skills Progress on the left to go to the report selections page:

As soon as you get to this page, your district roster data will start loading to offer personalized filtering options that best fit your district's needs. Depending on the size of the district roster, the data might take a moment to load.
Once the filters finish loading the roster data, you'll be ready to start making selections.
Date range

The date range defines the timeframe for the report during which students have worked: Today, Last 7 days, Last 30 days, or a Custom range of your choice.

Note: Progress data available for this report goes back to October 2021. Skills worked on before this date will not show up on the report.
Schools and Grades

These filters define the group of students that should be included in the report.
First, choose which Schools available in your district roster should be included in the report. Next, choose from the student Grades rostered for the chosen schools you would like to see.
Note: If you're not seeing a school you expected to see listed here, you might not have Admin access to that school on Clever. Please check with your district IT department or contact the NWEA Support Desk at techsupport@nwea.org or 866-329-2315.
Instructional area

Use the Instructional area field to select which MAP Instructional area you would like to view. Only one Instructional area can be selected at a time here, as each area contains a curated set of skills students will work on in the selected timeframe.
RIT bands

After choosing the MAP Instructional Area, choose which RIT bands within that area you would like to view.
Any number of RIT bands can be selected and all skills worked on the selected timeframe and chosen Instructional area and RIT bands will be included in the results, whether directly assigned as a placement for students or not.
Apply button

Once all selections are made, click on the Apply button to show the report results. After the report results are displayed, the button will remain hidden until the filter selections change.
If you'd like to see different results, change the filters as desired and hit the Apply button again to run the new report selections.
Exploring the report results
After hitting the Apply button, the report will show the data available according to the chosen criteria.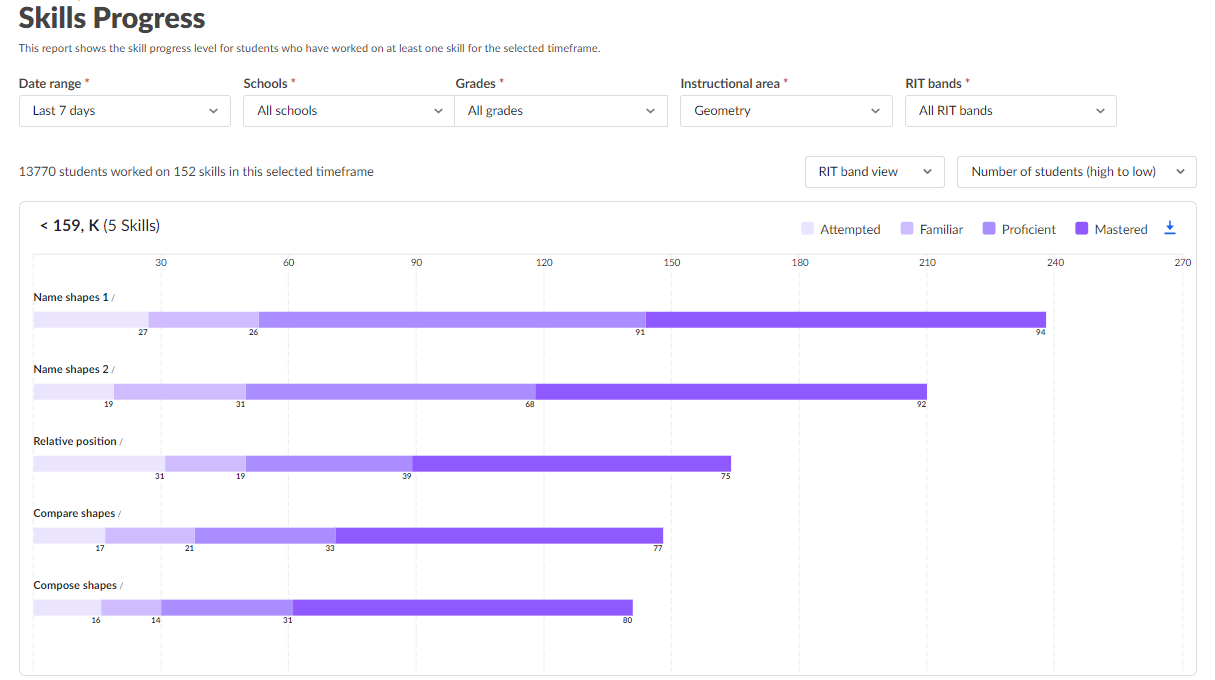 Continue reading to know more about the views and options available to explore and tweak your report results.
Combined and RIT band view

Use this drop-down menu to choose whether to display all the skills in a Combined view or by skills listed in each band in the RIT band view.
All other views and options below will also be shown in a Combined or RIT band view accordingly.
Sorting options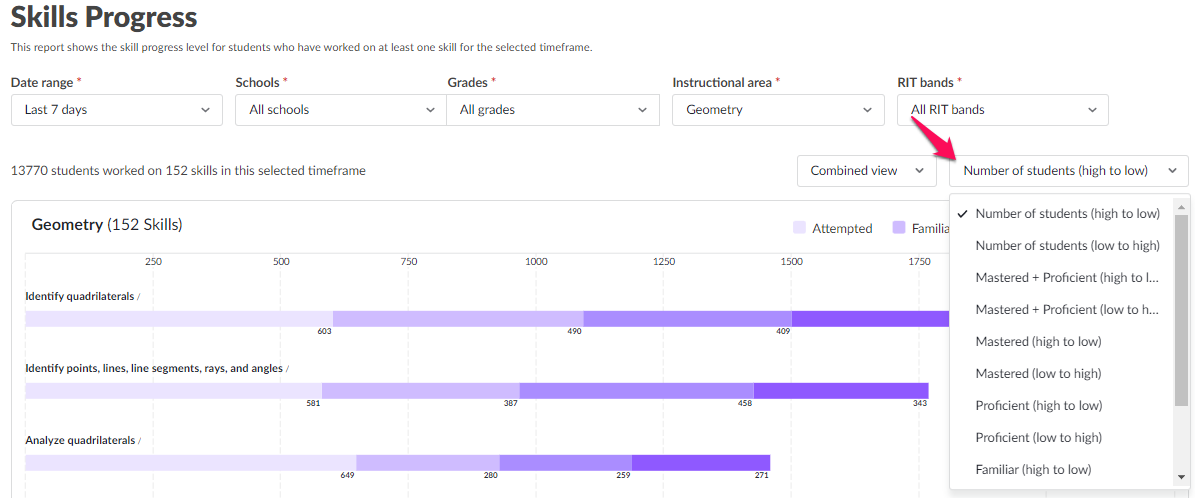 Use this drop-down menu to choose one of the several options available to sort the results, including by Number of students, Mastered + Proficient, Mastered, Proficient, Familiar, or Attempted; either high to low, or low to high.
For more information on how the Khan Academy's Mastery levels work, check out this article.
If the RIT band view is chosen, the sorting will be applied to skills within each band. In the Combined view, all skills from the course will be sorted at once.
Mastery levels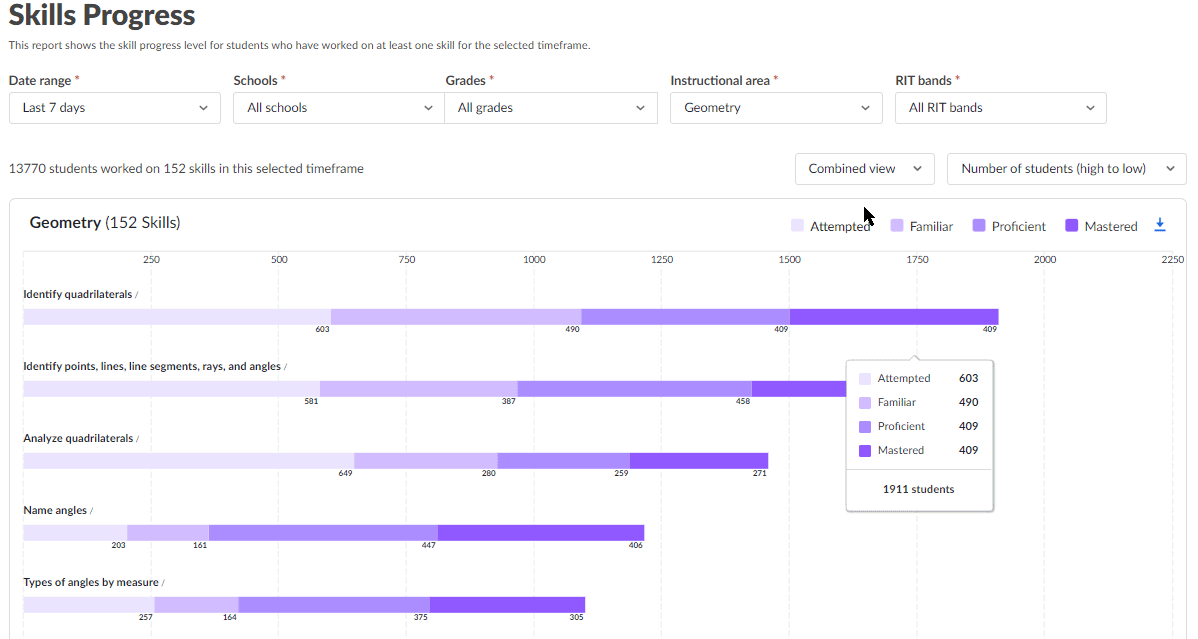 On the top right corner of the results window, you can find the interactive Mastery levels matching the progress bar colors. Click on a proficiency level to hide it from the progress bars below. In the RIT band view, the Mastery levels can be enabled or disabled by RIT band.
Progress bars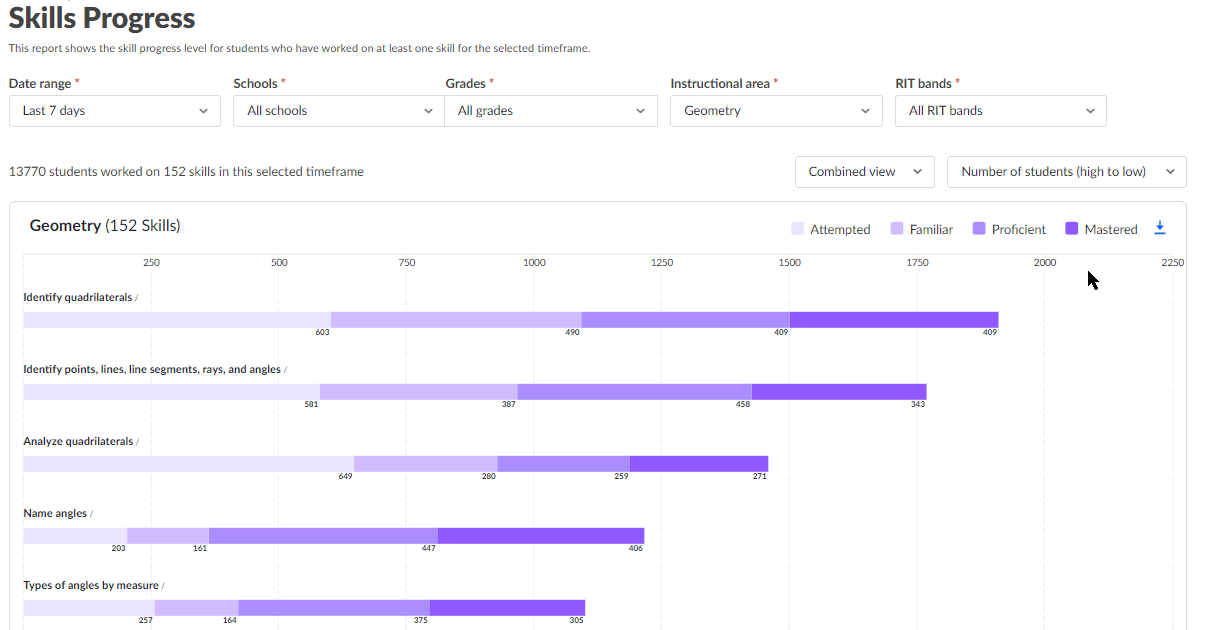 The progress bars show the number of students that worked on each skill in different colors for each Mastery level achieved.
Hovering over each bar shows the total of students that worked on that skill and a breakdown of students by Mastery level. Clicking on each Mastery level brings up the list of students included.
Clicking on a student's name in the list shows an individual progress report specific to that student, giving you an overview of that student's progress across skills.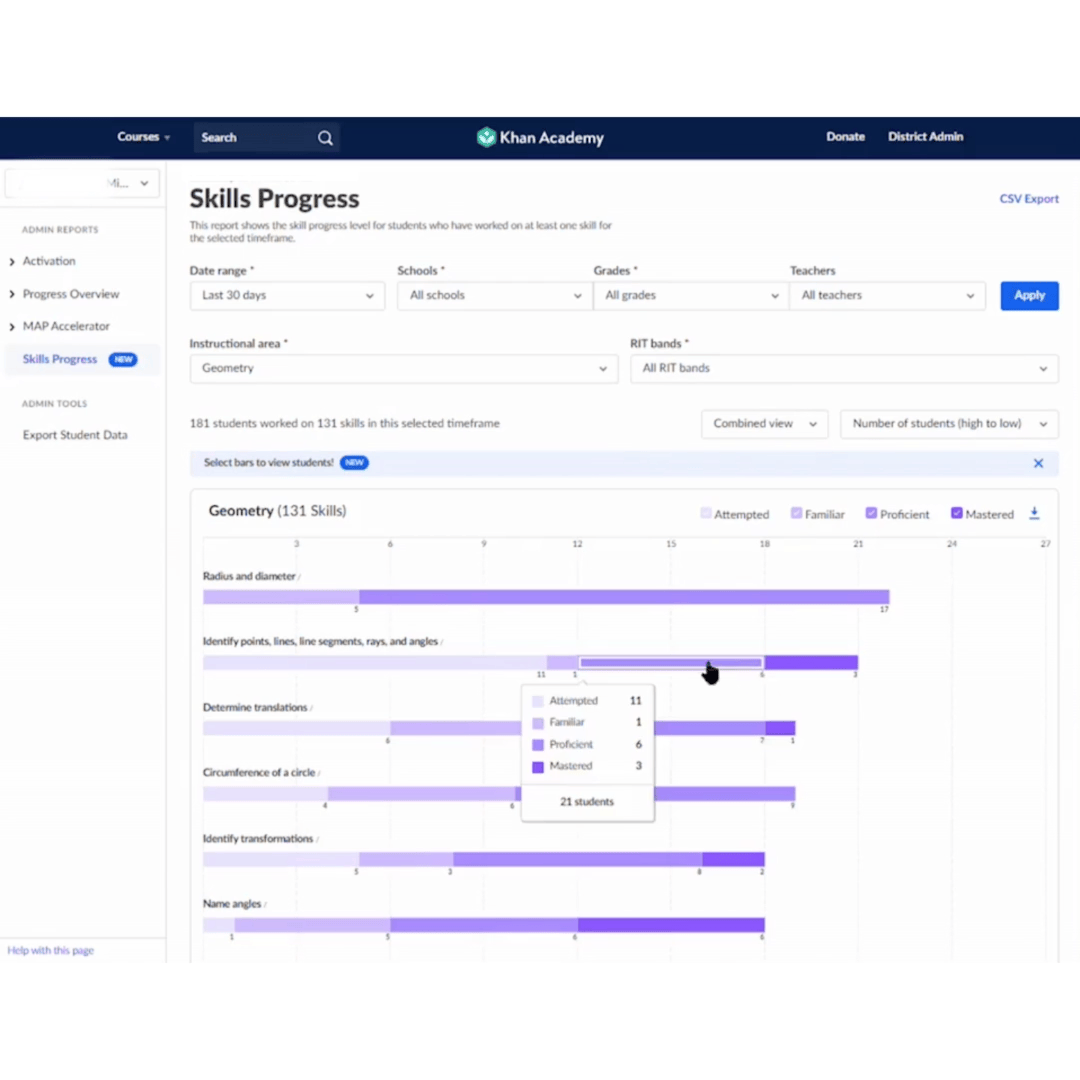 Save as image icon

After making the desired selections and choosing the viewing and sorting options that best fit your needs, click on the Save as image icon in the upper right corner to save the current view as a .jpeg image. In the RIT band view, each RIT band can be saved separately.
CSV Export link

If you'd like to explore the Skills Report data further on your own device, click on the CSV Export link in the upper right corner to go to the Export Student Data page.
Your previous selections will be chosen by default, but you can change them as desired for the export. Once you're done, click on Export CSV file to start generating the report.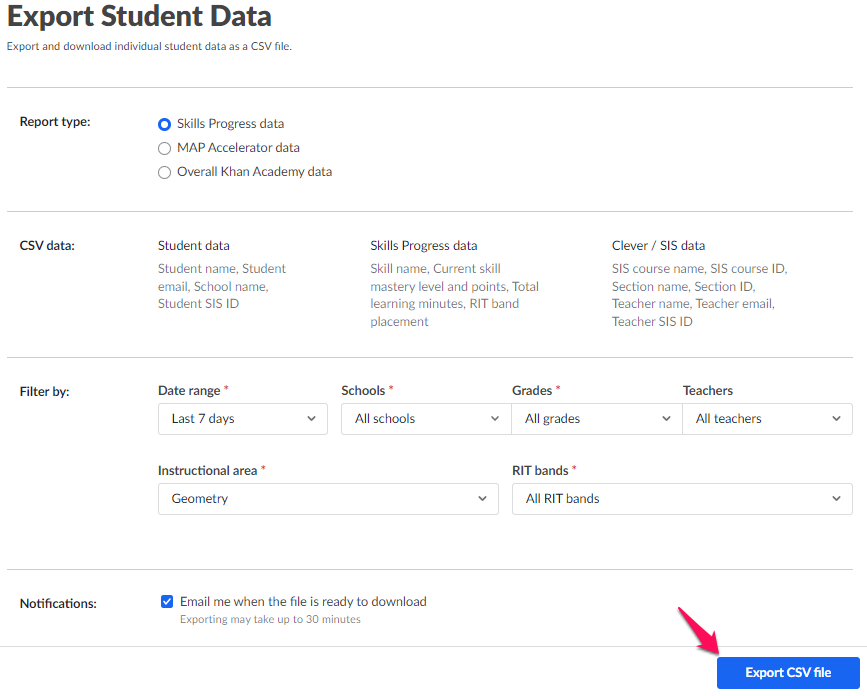 Depending on the selection, it might take some time for the report to be generated, so check back in a while or opt to receive an email notification when the file is ready for you.
Frequently Asked Questions
How is progress shown in the report?
The report shows the skill progress level for students who have worked on at least one MAP Accelerator skill for the selected Instructional area and timeframe. It also offers the flexibility to zoom in or out to look at different groups of students in specific schools, grades, and RIT bands.
The more students use MAP Accelerator in the selected Instructional area and timeframe, the more understanding they develop, and the more information you'll have about their areas of strength and need.
If your district still doesn't have much usage yet, you might see lower numbers or even no data for a given timeframe (if your students just started), so it might be a good idea to give students time to develop their skills so you can observe the needs and trends as they develop.
What insights can I get with this report?
We developed the Skills Progress report to offer a greater understanding of student performance levels in relation to the skills they are working on with MAP Accelerator.
Here are some questions this report can help you answer:
How well do students understand a recently taught skill?

Which skills do students understand the best or which skills do they need the most support with?

How well do students understand the prerequisite math skills they need to succeed on MAP Accelerator content?

Have students attained proficiency in the key RIT band skills they need to succeed?



As a Math coach or program specialist working with individual teachers to achieve success in their classrooms, this could mean tracking a specific set of skills recently taught to a grade, looking at how the students are understanding those skills.
As a District administrator, you could zoom out even further, switching from looking at one school to all schools. Early in the school year, this could be useful to know if students have a sufficient understanding of the prerequisite skills they need to succeed in their current RIT bands, for instance. Using the report this way, you're not looking at whether students are succeeding in recently-taught content, but looking at the bigger picture in regards to students' progress to help you make informed decisions for upcoming school terms and growth tests.
Feedback
We hope this MAP Accelerator Districts Skills Progress report gives School and District Administrators a more precise picture and understanding of how students are developing, as well as insight into their ongoing needs.
As you familiarize yourself with the report, we're hoping to know more about the questions you'll answer with it, and what data you'll want to look at as part of our efforts to offer the best tools to fit your district needs.
If you have feedback about how you use these features or ideas for improvements, please share your thoughts with the NWEA Support Desk at techsupport@nwea.org or 866-329-2315. We'd love to hear from you!