Update: Removing On / Off Trackness in LSAT and Praxis Experiences
Updated
What's changing?
In an effort to simplify the learning experience for our LSAT and Praxis students, we'll be making some changes to the LSAT and Praxis practice experiences on January 20, 2021. Specifically:
We'll be removing indications and notifications that tell you if you are On-Track or Off-Track toward your goal score.

We'll be removing any references to collecting Energy Points for learning or practice activity.

When you're setting up your practice, we'll no longer ask you to specify the number of hours and the specific times of day that you plan to learn and practice.
Why are we making this change?
As part of the ongoing project to rebuild all of Khan Academy in a new coding language, we've been investigating areas where we have the ability to simplify the learning experience and free up time for our small team to focus on improving our most critical areas.
In collaboration with our Efficacy team, we looked at both the On-Track / Off-Track feature and the feedback we've received from learners about it. We found that some learners didn't trust the accuracy of the information, often because they were using multiple preparation products. In addition, we found that messages telling learners they are Off Track when they may not be could be demotivating. Relatedly, part of the calculation used in determining whether a learner is On or Off Track is how many hours they plan to practice, and since we're removing those notifications, we no longer need to ask learners those specific questions in the Onboarding section of the experience.
Finally, we believe our learners are self-motivated in their pursuit of higher scores on the LSAT or the Praxis, and therefore we can simplify the user experience and the codebase by removing references to earning Energy Points for practice activity.
What about all of my Practice Test scores?
As you can see in the image below, all of your previous practice test scores and dates will remain in the experience for your reference.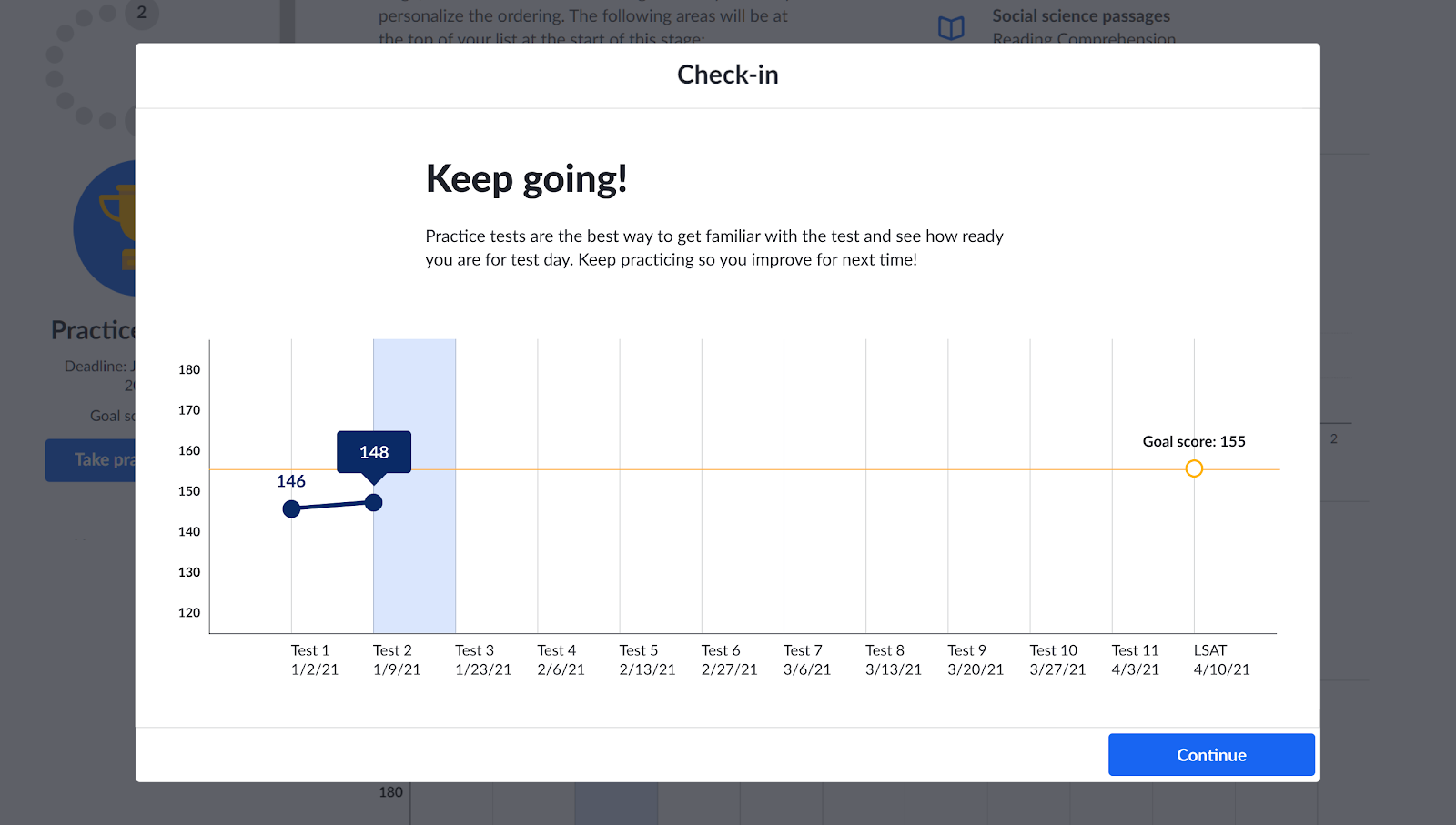 We want to end with a note shouting out those of you who stayed committed to preparing for the LSAT or the Praxis, either in the past or during the difficult year that was 2020. We hope that your dedication was personally rewarding, and we thank you for being such an important part of the Khan Academy community.