How does automated rostering work for Khan Academy Districts accounts?
Updated
Khan Academy accounts who are part of a partner district and are enrolled in the Khan Academy Districts program have access to automated rostering via Clever.
With this automated rostering feature, our standard Clever Secure Sync integration & SSO integration uses the teacher's SIS data to automatically create classes and roster students into those classes.
(If you'd like to know more about the product, please refer to the links above or contact Clever at support@clever.com.)
Because this feature keeps your classes automatically in sync with those set by the district in the official roster, you might also notice that some features behave differently on your district-synced classes, including:
Teachers cannot add or remove students: Class rosters are automatically synced with the district roster, and any student added or removed from the district roster should be reflected on the Khan Academy class in the next 72 hours.
Teachers cannot edit students' display names: The display name will follow the naming rules set by the district in the official roster.
Teachers cannot change the class name: As with students' display names, classes will use the names set by the district.
No other integration can be used in the same class: Because they're constantly being updated by the Clever Secure Sync integration, other integrations such as Google Classroom cannot be used with district-synced classes.
Students cannot remove district teachers: When rostered into district-synced classes, students will see a message similar to this one when they try to remove the teacher on the Teachers screen on the Learner homepage: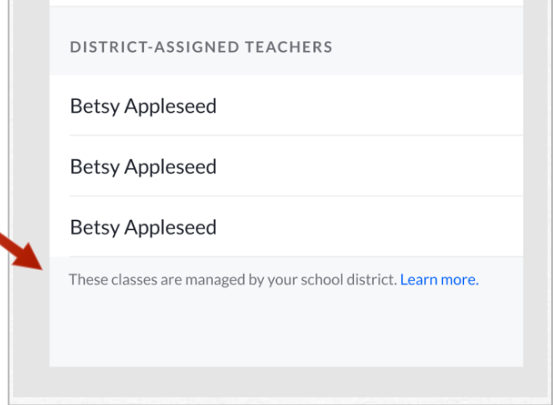 Note: These changes only apply to district-synced classes. Teachers can still add and remove students, change class names, and import new classes from Google Classroom, even if those are created in a district account, as long as they're not district-synced.